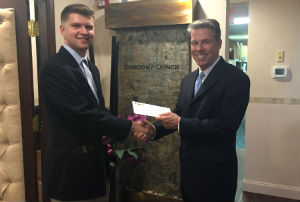 Gordon & Partners is pleased to award its 2016 Scholarship for Collegiate Academic Success to Emanuel Mara, an accomplished senior at Saint Johns River State College.
Mara currently maintains a 4.0 grade point average as a full-time student who is involved in a number of leadership positions. Mara serves as president of the Florida College System Student Government Association, where he is an advocate for the 813,000 students in the Florida College System. He is also the vice president and former president of the Rotaract Club, a charitable organization he chartered during his time at Saint Johns River State College.
He plans to graduate with his Bachelor of Arts in Business Administration with an emphasis in Entrepreneurship on May 5, 2017 before pursuing a law degree at the University of Central Florida. He ultimately would like to pursue a career in real estate law.
Mara was one of many outstanding applicants for the Gordon & Partners Scholarship for Collegiate Academic Success. Each applicant submitted a letter of recommendation and an essay describing the effects social media will have on the legal industry.
Although it was a difficult decision to choose just one recipient of the award, founding partner Robert Gordon noted that Mara's many accomplishments and insightful and well-researched essay exemplify his commitment to achieving his academic and career goals.
Gordon & Partners is honored to be able to provide this scholarship and help students in our local community in their academic endeavors.