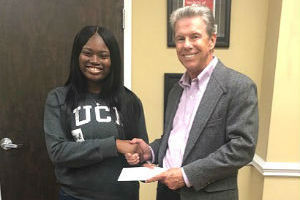 Gordon & Partners is proud to announce that Enya Brackins (pictured on the left with Robert Gordon) and Olivia Johnson are the recipients of our 2019 South Florida Scholarship for Continued Education.
Brackins is now attending the University of Central Florida and plans to become a JAG Lawyer. Johnson, on the other hand, has since joined the Coast Guard.
The annual scholarship was created to nurture and support exceptional leadership and academic excellence in dedicated high school students throughout South Florida. Two $500 scholarships are awarded every year to a senior attending a Broward, Palm Beach or Martin County High School.
There are several requirements to be eligible for the scholarship. Applicants must have a minimum grade point average of 3.0 and immediately upon graduation enter as a full-time student at an accredited U.S. college or university beginning in the summer or fall semester. Part of the application process also includes submitting a 500 to 2,000-word essay on how their own childhood experiences influenced them to further their education by attending college.
Brackins and Johnson both captured our attention for their inspiring takes on the topic. Johnson wrote about how growing up around family and friends in law enforcement has motivated her to pursue a career helping others and serving her country on the U.S. Coast Guard. Brackins' essay talked about how growing up in a single parent household and having to grow up quickly to help provide for her brothers and sisters made her learn the importance of continuing her education and pursuing a career in law.
On behalf of our legal team, we would like to congratulate Enya Brackins and Olivia Johnson on their academic achievements so far and wish them the best in their future endeavors.