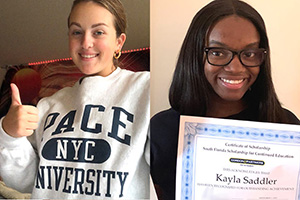 Gordon & Partners is proud to announce that Isabella Battalini (pictured on the left) and Kayla Saddler (pictured on the right) are the recipients of the 2020 South Florida Scholarship for Continued Education.
The scholarship was established to enrich, encourage and support exceptional leadership and academic excellence in outstanding high school students in South Florida. Each year, two $500 scholarships are awarded to a senior enrolled in a Broward, Palm Beach or Martin County High School.
Potential recipients must have a minimum 3.0 GPA and plan on attending an accredited two or four-year U.S. College and/or University as a full-time student starting in the summer or fall after graduation.
The application process also requires submitting a 500 to 2,000 word essay on how their own childhood experiences have influenced them to continue their education at college. Isabella and Kayla, both 4.0 students, captured our attention for their moving take on the topic.
Isabella from Palm Beach County wrote about planning to Major in Entrepreneurship and Minor in Journalism in college. She wants to learn all about the business fundamentals on starting and running a successful company. Her dream is to one day start her own makeup brand. Isabella also has a strong interest in researching, learning and telling stories and hopes to become a news anchor. Involved in various leadership roles at school, she is driven, passionate and dedicated to put in the hard work.
Kayla from Broward County wrote about how growing up with a mother as a nurse and father a paramedic has sparked her interest in going to college to obtain a Bachelor of Science in Nursing (BSN) degree. Her dream is to gain enough work experience to eventually become a Certified Registered Nurse Anesthetist (CRNA), dedicating her life to saving lives and being an advocate for patients.
Congratulations to Isabella and Kayla and best of luck in your future endeavors!