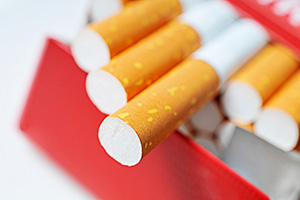 Gary Paige, partner at Gordon & Partners, was victorious in yet another case against big tobacco, which concluded on Friday, Sept. 11.
A Florida jury ordered Phillip Morris USA Inc. to pay $3.5 million in punitive damages and R.J. Reynolds to pay $2.5 million to the family of a smoker who died of lung cancer. The family had been awarded $6 million in compensatory damages earlier in the day. Total, the family was awarded $12 million in compensatory and punitive damages.
The widow of Douglas Duignan was awarded $4 million while each of the couples two children received $1 million. Philip Morris was found to be 37 percent responsible for Douglas Duignan's lung cancer and death. Another 30 percent of the blame was placed on R.J. Reynolds.
The case is one of thousands stemming from a class action lawsuit against tobacco companies that the Florida Supreme Court de-certified in 2006.
Hot on the heels of this big verdict is news from the Food and Drug Administration (FDA) that the selling of four cigarette brands from R.J. Reynolds has been banned. According to the FDA, the brands did not meet the agency's requirements that new cigarette brands must indicate that the products have the same health risks as older tobacco products.
The brands include Camel, Paul Mall and Vantage branded cigarettes.
Per the FDA's actions, it is illegal for retailers to sell or distribute the listed cigarette brands. So far, the FDA has banned about a dozen new tobacco products this year.
According to Campaign for Tobacco Free Kids, the FDA's actions are a step in preventing the introduction of tobacco products that may be more appealing to adolescents.
In the past year, Gary Paige has been victorious in several tobacco cases, visit our firm news for more information his, and other personal injury attorneys verdicts and settlements .
We would like congratulate Gary Paige on this outstanding achievement!