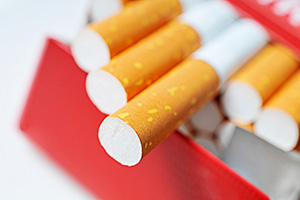 Gordon & Partners is proud to announce that attorney Gary Paige has been recognized among the National Law Journals Top 100 Verdicts of 2014."
Paige, who manages our Broward County office, worked with Alex Alvarez from The Alvarez Law Firm in Coral Gables to obtain the $33 million dollar verdict in a case against Big Tobacco. Its a topic which clearly dominated headlines in 2014 and Paige was recognized because of his work on the high-profile case.
The details concerned the death of a man who died of lung cancer after beginning smoking at the age of eleven. Testimony from his widow confirmed several attempts to kick the habit including hypnosis, patches and even quitting cold turkey. However, none of his efforts to quit ever succeeded. In fact, he was so heavily addicted that by the end he was smoking two or three packs a day.
"If he ran out, he would go through ashtrays to find unused butts. The family attended church every week. They were strong Catholics. He couldn't go the entire church service without having to go out and smoke.
The victims widow maintains the industry's marketing practices, contributed to his addiction, which ultimately claimed his life at the age of 56.
In another similar tobacco death case, Florida's 11th Judicial Court returned a $21 million verdict for the widow of a man who died of lung cancer after smoking 45 years. The jury found that R.J. Reynolds Tobacco Co. was responsible for the wrongful death action brought by his widow.
In light of all of the dangerous consequences of the tobacco industry's marketing practices, federal regulatory agencies have instituted new labeling practices. But Big Tobacco is fighting back.
The tobacco industry and their high-powered lobbyists and bevy of attorneys are now suing the U.S. Food and Drug Administration (FDA), the agency responsible for regulating the industry. They are arguing that the agency's new rules monitoring the companies labeling practices overstep its authority and infringe upon their free speech.
The new guidelines require the tobacco companies to subject their logos, packaging specifications, and their warning descriptions to a pre-approval process monitored by officials at the FDA.
This isn't the first time Big Tobacco has butted heads with the administration. In 2011, some of the industry's largest companies collectively sued the FDA to block an order requiring packages of cigarettes to carry warning labels illustrating the dangers of smoking.
Gordon & Partners' aggressive personal injury attorneys have obtained many successful verdicts in wrongful death cases. If we are unable to recover anything for you, then we are paid nothing and we do not ask you to repay any of our costs.
For a free review of your claim, call 1 (855) 722-2552 or fill out a Free Case Evaluation form.