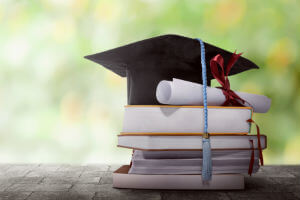 Gordon & Partners is pleased to award our South Florida Scholarship for Continued Education to Gavin Cothern and Zyniah Thompson, two high school seniors who have demonstrated academic excellence in the pursuit of their educational and career goals.
As accomplished students taking honors, advanced placement and International Baccalaureate (IB) classes at schools in South Florida, Cothern and Thompson each have a keen interest in pursuing careers within the STEM (science, technology, engineering and math) field.
In his submission essay, Cothern shared that encouragement from his family and access to the internet and books fueled an early interest in the sciences. What began as a love for animals and zoology, later developed into independent study in coding and circuitry, through which he has created his own microprocessor and breadboard and is continuing to learn more about small electrical engineering processes such as circuits and LED light patterns.
Cothern plans to continue to expand his knowledge by attending a selective STEM-based magnet program at his college.
Thompson's upbringing also shaped her into the driven student she is today. Having watched her mother's sacrifices to attend nursing school when she was younger, Thompson learned at an early age how to be independent and work hard for the things she wants in life.
Those lessons and the encouragement from her mom helped her balance the rigorous coursework of the IB program while serving as Vice President of her senior class and being one of the top 10 sales associates in her district for Foot Locker.
With a passion for having a positive impact on society through both her career and personal life, Thompson plans to major in biology at Nova Southeastern University before pursuing a doctorate degree in pharmacy.
With an outstanding record of both academic and personal success throughout their high school careers, our personal injury lawyer s believe that Cothern and Thompson possess the skills and determination to succeed in all of their goals.
We are proud to award this scholarship to both students and to help them in their future endeavors.
Congratulations Gavin Cothern and Zyniah Thompson!