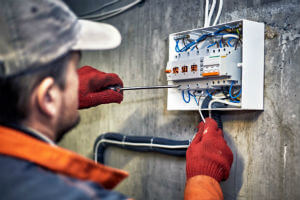 Electrocution injuries can happen anywhere, but more commonly in the workplace. Certain professions, including utility workers, electricians, cable operators and construction workers are at a higher risk of being electrocuted and suffering a serious or even fatal injury. If you or a loved one has sustained an electrocution injury, you may be eligible to file a workers' compensation claim to help with expenses.
Our legal team at Gordon & Partners is here to help. We are well-versed in the Florida workers' compensation system and the different kinds of laws covering electrocution injuries, and are prepared to help you obtain the compensation you need. An initial consultation with us to learn about your potential legal options is free of charge. If you have a valid claim, you are not obligated to retain our services.
Common Causes of Electrocution in the Workplace
An employee can suffer a work-related electrocution injury for several reasons, often due to:
Overloaded or damaged circuits
Exposed electrical energy source, such as a live wire
Electrical wiring issues
Wet conditions
Frayed electrical cords
Improperly installed electrical lines
Downed or damaged power lines
Defective or damaged equipment or machinery
It is important for employers to take precautions and implement safety protocols to protect employees from these types of injuries.
Types of Electrocution Injuries
The injuries caused by electrocution could range based on the type and level of electrical current and how the current enters and travel through the body. A low-voltage electrical current can simply shock the victim and cause mild pain but result in no permanent damage, while a high-voltage electrical current could be devastating. It could damage a victim's heart, resulting in a heart attack or even death.
Electrocution often causes many different kinds of injuries, such as:
Extensive and severe burns
Broken bones
Brain damage
Cardiac arrest
Arrythmia
Unconsciousness
Seizures
Difficulty breathing
Numbness or tingling
Nerve damage
Weakness
Muscle pain
Hearing or vision loss
Spinal and head injuries, from being thrown or falling
Paralysis
Death
It is important to seek immediate medical attention after an electrocution injury. Once a doctor has treated and cleared you, we recommend consulting with an experienced West Palm Beach workers' compensation lawyer from our firm to discuss your available legal options.
Benefits Filing a Workers' Compensation Claim
Electrocution injuries can cause you to be unable to work on a temporary or permanent basis. You may be wondering how you will pay your bills or how you can provide for your family. If you were on the job and got electrocuted, you may be eligible to file a workers' compensation claim.
You must report the incident to your employer as soon as possible, receive medical treatment and start the claims process to obtain the benefits you need. These benefits may include:
Payment to help cover reasonable and necessary medical bills and medical assistance related to surgery, hospital stays, doctor's appointments, medications, skin grafts, and other forms of care.
Payment for some of your lost wages if unable to work temporarily or permanently.
Receive training to enter a new occupation if unable to continue working in your field.
Compensation and assistance with final expenses related to the death of a loved one.
Other Ways to Recover Compensation
Aside from workers' compensation benefits, you may be able to file other types of claims to recover financial compensation from an electrocution injury, depending on your particular circumstances.
Personal injury – If a third party caused your electrocution injury, you could file a personal injury claim. A third party may be the utility company that maintains the power lines. You must prove negligence and compensation could include emotional distress, and pain and suffering.
Product liability – If you were harmed due to malfunctioning equipment or machinery, you could file a product liability claim against the manufacturer of the device. In most situations, you would need to prove the product was defective and not that the manufacturer was negligent.
Premises liability – If you suffered an electrocution injury because a property or business owner failed to take precautions to protect you from hazards, you could file a premises liability claim.
Wrongful death – If an electrocution resulted in the death of a loved one, you or another surviving family member may be able to recover damages by filing a wrongful death claim.
Reach Out for Legal Help
Being injured in an electrocution accident at work can have tragic consequences for the victim and his or her family. You may be in serious pain, unable to work while in recovery and unable to pay medical bills. You may be unsure of what to do or who to turn to for help. At Gordon & Partners, our lawyers are ready to help you understand your rights under the law to obtain the compensation you need.
Our services are provided on contingency, so there are no upfront fees unless we help you win. A free consultation with our legal team may help provide the answers you are looking for.