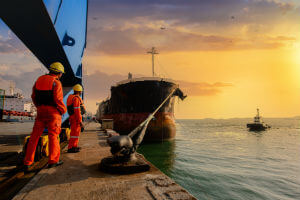 When longshoremen or harbor workers are injured or harmed in a job where their duties are related to maritime activity, they may be able to pursue benefits under the federal Longshore and Harbor Workers' Compensation Act (LHWCA) or seek compensation under the state workers' compensation program. While both systems help provide medical treatment and certain disability payments to injured workers, there are some important differences between them.
If you are unsure about which claim to file for benefits, our legal team at Gordon & Partners is here to help. A free consultation with us will provide you the opportunity to learn your rights and legal options.
LHWCA Benefits Compared to State Workers' Comp Benefits
The LHWCA covers particular maritime employees, including longshoremen, those involved in longshore operations, and harbor workers, such as ship repairmen, shipbuilders and ship breakers. Seamen or anyone covered by the Jones Act are excluded. Any injuries sustained must also have happened on navigable waters in the U.S. Most other employees fall under state workers' compensation laws.
Both are "no-fault" systems, which means that injured workers are not required to establish fault to be compensated. You may even be reimbursed for reasonable and necessary medical care, including mileage and transportation costs. However, these systems differ in certain areas.
Generally, some states will only allow an injured worker to receive 60 percent of his or her average weekly wages while the LHWCA allows you to receive 66 and two-thirds percent of your average weekly wages. Florida workers' compensation system in this regard does provide the same percentage.
Injured workers under the LHWCA are also eligible for permanent partial disability benefits. These benefits are issued if your work-related injury or illness prevents you from working in the same capacity as before. Some state workers' compensation programs, including Florida, do not offer this benefit.
LHWCA claimants also have the right to choose their own doctor while Florida workers' compensation claimants must seek medical care from a doctor authorized by their employer's insurance carrier.
Other benefits available to you under a state compensation program may not be provided under the LHWCA and vice versa. However, LHWCA benefits are often greater than state workers' compensation benefits. That is why it is important to consult with a lawyer with experience in both LHWCA claims and state workers' compensation laws who would understand how to help maximize your benefits.
Can You Receive Workers' Comp Benefits From Both?
This will typically depend on a state-by-state basis. Some states will allow an injured worker to file a LHWCA claim and a state workers' compensation claim for the same injury. However, he or she cannot "double dip" or receive double benefits.
Not all states will allow you to proceed under both systems. Florida's workers' compensation law specifically excludes from state coverage any injured worker who is eligible for LHWCA coverage.
If you have a valid claim, a West Palm Beach Longshore and Harbor Worker lawyer from our firm is prepared to help. There is only so much time to file a claim for benefits under either system.
Learn How to Get the Benefits You Need
No matter where you are at in the claims process, we recommend speaking with a member of our legal team at Gordon & Partners. We offer a free consultation for injured workers to learn about their rights and potential legal options. You have nothing to lose by calling us and are under no obligation to hire us.
Our firm works on contingency, meaning we do not get paid for our services unless we help you obtain the benefits you need. We are available anytime, day or night, seven days a week to take your call.