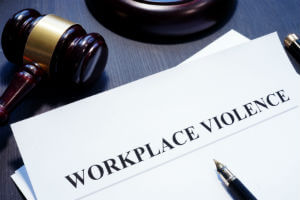 Most people think of a fall or injury that occurs from machinery when thinking about a compensable work injury. However, other types of injuries may make you eligible for workers' compensation benefits, including workplace assaults.
If you were assaulted at work, a West Palm Beach workers' compensation lawyer from our firm is here to help. We are knowledgeable about Florida's workers' compensation laws and are ready to review your claim during a free, no-obligation consultation.
What Is Workplace Violence?
Workplace violence is an act or threat of violence that occurs while a person is at work. This can include acts of harassment, intimidation, threatening behavior or physical violence. It can include varying degrees of severity from minor scrapes or bruises to serious head injuries, gunshot wounds or homicide.
Workplace violence may be perpetrated by co-workers, customers or visitors at your job. However, workplace violence does not typically include injuries that stem from a domestic or personal dispute that happens to occur at work.
Workers' Compensation for Injuries From Workplace Violence
To prove that you are eligible for workers' compensation, you must be able to show that you were injured in an incident that arose out of and occurred in the scope of your employment. The incident must be related to your job and carried out while you were working. Additionally, you must not have been the physical aggressor to receive benefits.
Florida's workers' compensation benefits are available to workers who were hurt by a third party. If the injury resulted in the worker's death, his or her surviving family members may receive compensation.
Since state law does prevent employees from being able to receive compensation from employers through a personal injury lawsuit, workers' compensation is typically the sole form of compensation that employees can receive in a claim for workplace violence incidents.
While there is no guarantee that you will be approved for workers' compensation benefits if the victim of workplace violence, employers do have a legal duty to provide a safe workplace.
For example, employers should take preventative measures to prevent employees from being injured such as not scheduling employees to work alone late at night, responding to threats quickly and seriously, and training employees on how to de-escalate situations.
Filing a Workers' Compensation Claim in Florida
If you were injured in a workplace assault, seek immediate medical attention. If the situation is not an emergency, you can alert your employer before seeing a doctor. However, if you need immediate care, seek treatment and then notify your employer.
You should notify your employer in writing within 30 days or sooner. Remember to follow up with the workers' compensation carrier to ensure that your employer has reported your injury.
Reach Out to Our Legal Team for Help
If you have become the victim of workplace violence, it is important that you have an experienced legal professional on your side willing to advocate for your rights and best interests.
The legal team at Gordon & Partners is prepared to assess your situation and determine your legal options in a free consultation. There is no risk in calling us and no obligation to hire us. We work on a contingency fee basis, so there is only a fee if we help you recover benefits.
Contact our office today by calling 1 (855) 722-2552.