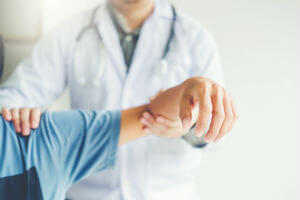 If you sustain a work-related injury or illness, your employer's insurance company should provide you with any reasonable medical care needed. However, you may have limited options in choosing a doctor who will treat your condition and advocate on your behalf in a workers' compensation case.
Our West Palm Beach workers' compensation attorneys discuss the significance of a treating doctor's opinion and how you may be able to change doctors if necessary.
Role of Treating Doctor Under Workers' Comp
Your treating doctor plays a critical role in your workers' compensation case, so it is important to select a doctor who has your best interests at heart. Some of the important determinations that could directly impact your recovery and benefits include:
Any reasonable and necessary medical care you should receive
The diagnosis of your medical condition
Whether the condition is work-related
How much time you should take off work
Whether you need to see a specialist
What your work restrictions will be
Whether you can work a light-duty job
When you have reached the point of maximum medical improvement
To what extent you have a permanent disability
Florida Law on Choosing a Doctor
Under Florida law, your employer's insurance company will require you to see a doctor it has chosen. Although there are some exceptions when you may be able to choose your own doctor, such as:
You need emergency medical treatment for your work injury
The insurance company did not notify you within a reasonable amount of time about which doctor you should see
Your workers' compensation claim was denied
The insurance company has a managed care arrangement and you are allowed to choose any doctor within the network
How to Change Your Treating Doctor
If you are dissatisfied with the medical care that you have received from the treating doctor or you disagree with his or her decision, you can request to change your treating doctor. However, you can only make one switch during your workers' compensation case.
The insurance company gets to decide which new doctor for you to see unless it fails to assign your case to a new doctor within five days of your request, in which case you can choose whichever doctor you want and the insurance company would be responsible for paying your medical bills.
If you received care from a doctor in a managed care network, you can select another doctor from the same network.
There are other important factors that you should be aware of when selecting a new treating doctor. Once you make the switch, you cannot switch back to the original doctor. Additionally, the new doctor may make the same conclusions as the old doctor, and you will be stuck with them. This is why you should only consider switching doctors unless absolutely necessary.
What About Seeing a Specialist?
Your work injury or illness may require that you see a specialist for treatment. Before your treating doctor can refer you to a specialist, he or she must obtain authorization from the insurance company to do so, similar to any other type of reasonable medical care needed. This request may ask that you see a surgeon, a diagnostic facility or a physical therapy center.
Handling Disputes Over Medical Care
If a dispute arises over medical care between you and the insurance company, either party can request an independent medical examination. However, you are only given one exam during your case. You can also select the doctor who performs the exam, but you must pay for it, unless:
The examiner is from the insurance company's managed care network
The insurance company agrees to pay for the treatment due to the independent medical examination doctor's report
A workers' compensation judge orders the insurance company to pay for the exam
How Gordon & Partners Can Help
If you need help obtaining medical care after a workplace injury, we encourage that you reach out to an experienced lawyer from our firm as soon as possible. At Gordon & Partners, we are well-versed in workers' compensation laws and are prepared to fight for your rights.
We work on a contingency-fee basis so you pay us nothing until you receive payment for your case. Learn more about your legal options during a risk-free, no-obligation consultation.
Call us at 1 (855) 722-2552 or complete our free online form.