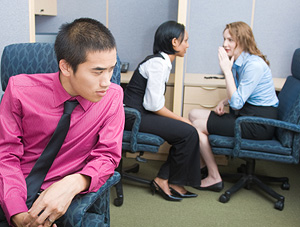 Discrimination in the workplace is an illegal activity prohibited by both federal and state law that puts employees at a disadvantage and degrades the morale of a business' environment.
While employers reserve the right to hire the person they believe is best qualified for the job, discriminating on the basis of gender, religion, sexual orientation, marital status and a number of other characteristics is not acceptable.
Employment discrimination is unethical, unfair and illegal—have you become the victim of employment discrimination?
Did you know that there are a number of federal laws that have been enacted over the years to prevent work discrimination and protect those who have been subjected to it?
If you feel that you are a victim of workplace discrimination, having a reputable attorney to review the details of your incident can help to put your mind at ease and if required, defend your rights in a court of law.
At the law offices of Gordon & Partners, our Florida workplace discrimination lawyers have detailed knowledge of the employment discrimination laws in Florida and can help to fight for the justice that you deserve.
For a free consultation of your employment discrimination claim today, contact Gordon & Partners by filling out the free case evaluation form or by calling our highly trained legal team at 1 (855) 722-2552.
our attorneys offer free consultations and we only get paid when a recovery is made on your claim.
Discrimination Defined
The U.S. Equal Employment Opportunity Commission describes discrimination as practices that have a, "disproportionately negative effect on applicants or employees of race, color, religion, sex (including pregnancy), or national origin, or on an individual with a disability or class of individuals with disabilities," when the policies or practices at issue are not job-related and necessary to the operation of business.
Data from the 2009-10 Florida Commission on Human Relations Annual Report reflects 74% of claims filed were in regard to employment discrimination; 50% of those cases were for racial workplace discrimination.
Types of Discrimination
The following discriminatory practices are prohibited by law:
Race, color or national origin discrimination
Titles VI and VII of the Civil Rights Act of 1964 specify that no employer may discriminate against a job applicant or an employee on the basis of race, color or national origin. Doing so could put them in direct violation of these laws.
Additionally, employers cannot publish any advertising materials that indicate a preference in race, color or national origin.
Sexual Discrimination
Employers are prohibited from discriminating on the basis of gender in the payment of wages, as outlined in the Equal Pay Act of 1963. Sexual discrimination also extends to the hiring and firing of workers, promotion, job classification, benefits and training opportunities.
Age Discrimination
Employees over 40 years of age are protected by the Age Discrimination Act of 1967. The rights of these workers are protected in the following areas:
Hiring and discharging
Differing terms or conditions of employment
Differing wages
Segregation or limitation of employees in a way that would affect their opportunities for employment.
Disability Discrimination
Disabled employees in both the public and private sectors are protected from discrimination by the Disabilities Act of 1990 and Section 504 of the Rehabilitation Act of 1973. These laws detail the following:
disabled employees may not be denied aid, benefits or services offered to other employees
Imposing eligibility requirements on disabled workers unless vital to the position
Administering programs, services or activities that do not meet the needs of the disabled worker
Denying opportunities for participation in a planning or advisory board.
Religious Discrimination
Employers are required to provide reasonable accommodations for workers' religions, which are loosely defined to include any sincerely held moral and ethical beliefs about right or wrong. Title VII of the Civil Rights Act of 1964 prohibits this discrimination in the hiring and firing processes as well as other aspects of the job, such as:
Cultural or physical traits
Affiliation or association
Perception
Retaliation by Employers
Employees who believe they are being discriminated against are shielded from employer retaliation under state and federal laws. Retaliation can come in the form of harassment, refusal for promotion, firing, altering benefits, and other behaviors.
Need Help? Contact Our Workplace Discrimination Attorneys Today
If you or a loved one believe you are being discriminated against in the workplace, filing a claim with experienced employment discrimination lawyers can help you seek the compensation you deserve. Title VII damages that may be provided to victims of workplace discrimination could include job reinstatement, financial damages, injunctive relief, or other job-related losses like wage recovery.
At the law offices of Gordon & Partners, our employment discrimination attorneys have extensive knowledge of the employment laws in Florida and offer 100% FREE and highly confidential case reviews to help determine if you have grounds to file a damages lawsuit.
Contact the lawyers Gordon & Partners today for your free consultation by calling 1 (855) 722-2552 or reach us online by simply submitting the free case evaluation form.
Gordon & Partners—Fighting For The Rights Of For The Injured.
---
Gordon & Partners, P.A.
Workplace Discrimination Law Firm
4114 Northlake Blvd.
Palm Beach Gardens, FL 33410
Phone: 1 (855) 722-2552