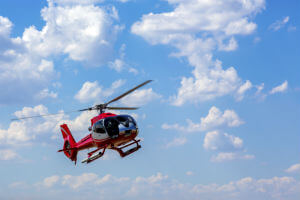 For the third consecutive year, helicopter accidents and related fatalities have declined in the United States. According to the Federal Aviation Administration (FAA), the rate of helicopter accidents in 2016 fell to 3.19 incidents per 100,000 hours in flight.
In 2015, 3.67 accidents occurred per 100,000 flight hours. Last year's fatal accident rate fell to 0.51 per 100,000 flight hours, which is slightly lower than the 0.52 rate in 2015. Although only a small decline between the past two years, it is a drastic decline from 2014's accident rate of 0.65 and 2013's rate of 1.02.
In total, 106 helicopter accidents occurred in 2016; 17 of which were fatal accidents. That number is a 12 percent decrease compared to 2015 and a 27 percent decrease compared to 2013.
The FAA and the helicopter industry have been working toward these improved results through enhanced safety practices, collaborative policy changes and educational initiatives. Groups such as the U.S. Helicopter Safety Team and the International Helicopter Safety Team have also joined in the effort to take proactive measures to improve safety in the industry, such as:
Establishing a culture of safety – Companies and pilots are encouraged to promote workplace safety. Safety training programs have been created for mechanics and pilots, as well as other helicopter company employees, and reporting systems have been established to allow the reporting of unsafe conditions without fear of retribution.
New technology – Advanced technology is being utilized to promote safer flights. For example, new required satellite-based technology provides comprehensive helicopter positioning information, offering improved ability over radar.
Regulation collaboration – Through collaboration with the industry, the FAA issued the Non-Required Safety Enhancing Equipment policy in 2013. This helps streamline the process and reduce costs for approval of new safety equipment. Industry insiders are also working with the FAA build safer helicopters that curb injuries, after-crash fires and damage caused by bird strikes.
If you were injured or lost a loved one in a helicopter accident, you may be entitled to compensation for your medical bills, lost wages, and pain and suffering. The aviation accident attorneys at Gordon & Partners will conduct an independent investigation into the accident and will work to help you get the justice and compensation you deserve.
Call 1 (855) 722-2552 or complete our Free Case Evaluation form now.