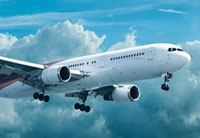 As the AirAsia Flight 8501 has now been counted as an aviation accident, the total number of aviation accidents reported last year comes to 111. Surprisingly, the number of airline crashes is the lowest it has been in approximately 80 years.
In 2005, nearly 200 aviation accidents were reported, according to the Bureau of Aircraft Accidents. The number has steadily dropped since then; the last time only 111 crashes were reported was in the 1920s. However, the number of deaths per year significantly increased in 2014.
As more and more commercial airlines continue to be involved in crashes, the number of fatalities increase. In 2014, three major commercial airline flights seemed to have suddenly disappeared and only in one incident was debris actually found. Ultimately, more than 1,100 people lost their lives in 2014 as a result of an aviation crash.
In March, Malaysia Airlines Flight 370 disappeared with 239 people on board. AirAsia Flight 8501 was carrying 162 people. Two other incidents, one in Taiwan and the other en route from Burkina, led to the deaths of 164 people.
Although airline disasters made headlines throughout 2014, there are fewer deaths caused by aviation accidents than car accidents. According to the World Health Organization, more than 1.24 million people died on the worlds roads in 2013.
Nonetheless, the loss of a loved one and the turmoil these families face is impossible to imagine. No one should ever have to endure such tragic circumstances.
If someone you love was wrongfully killed or injured in an airline crash, you may be entitled to file a wrongful death claim. The team of personal injury attorneys at Gordon & Partners can help you determine what your legal options are.
For a free review of your claim, call 1 (855) 722-2552 or fill out our Free Case Evaluation form.