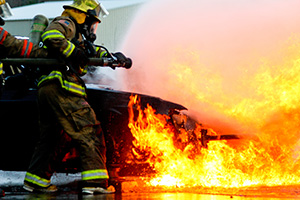 A small plane crashed into a mobile home in the Mar Mak Trailer Park in Lake Worth early Tuesday evening, destroying one mobile home and damaging another in a ball of flames. The pilot, who is believed to have been the only person onboard the plane, and a 21-year-old woman in one of the homes were killed in the wreck.
Domingo Galicia said that he was sitting on the front porch of his mobile home around 5:30 p.m. when he heard the plane sputter and then heard and felt a massive boom. He ran into the home to try to find his daughter who had been sleeping inside. He was unable to find her and ultimately had to retreat because the flames and smoke became too much.
The mobile home park is located south of Lake Worth Road and west of Congress Avenue about three miles north of Palm Beach County Park Airport, locally known as the Lantana airport.
Witnesses working at the Off-Lease Only car dealership across the street from the park said that security footage showed the plane as it fell from the sky at an angle and then crashed into the park.
Fire rescue crews arrived shortly after the incident and were able to contain and extinguish the flames. The scene was then preserved for the Federal Aviation Administration and the National Transportation Safety Board, who will investigate the cause of the plane crash.
The Palm Beach Post reported that a number of other aircraft have also experienced problems near the Palm Beach County Park Airport. In August 2014 a man was hospitalized after overshooting the runway and crashing his single-engine plane. Later that year, a helicopter crash killed one and injured another.
Aircraft accidents almost always have devastating results. If you or someone you love has been injured or died because of a plane crash, the West Palm Beach personal injury lawyer s at Gordon & Partners can help you get the compensation you deserve.
Complete a Free Case Evaluation form or call 1 (855) 722-2552 to speak with a representative today.