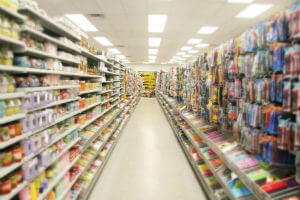 Dollar stores are popping up everywhere across the U.S., but are they actually doing more harm than good for local businesses and communities? Discount chains Dollar Tree, Family Dollar and Dollar General have experienced an increase in violent crime over the past several years, even as sales have skyrocketed during the coronavirus pandemic.
According to recent reports from The New Yorker and ProPublica, dollar store employees and customers are at a higher risk of being a target of robberies and shootings. Since 2017, dollar store chains have been linked to around 50 gun-related fatalities. As chain owners work to create a safer working and shopping environment, many city residents, leaders and state officials are unsure if enough preventative measures are being taken to address the violence and neglect happening in and around these stores.
Dollar Store Growth in Poor Communities
It is not uncommon to find a Family Dollar and Dollar General in small towns and urban neighborhoods. These discount stores have moved into urban cities and heavily rural counties where few retail options exist. Local residents are being offered a more affordable, convenient way to get basic items without having to travel further to a grocery/retail store.
Certain provisions have allowed dollar stores to remain open as essential businesses during the COVID-19 pandemic. This is because customers rely on these discount chains as an essential retailer for their daily shopping needs. While a variety of items can be purchased, sales related to essential products (cleaning supplies, hand sanitizer, household products, paper goods, nonperishable food, over-the-counter medicine, etc.) have improved significantly.
These smaller retailers are being treated similarly to larger retail stores such as Walmart and Target. There are over 16,000 Dollar Generals and nearly 8,000 Family Dollars in the U.S. – a fifty percent increase within the past decade. Dollar Tree, which owns Family Dollar, acquired the company back in 2015 at $8.5 million with a combined sales exceeding $19 billion annually.
There are now dollar stores in almost every state. Walmart by comparison has around 4,700 stores nationwide but has been consolidating its stores over the years as it competes with Amazon and other e-retailers. Walmart closed down about 20 stores last year, leaving many local residents to rely even more on dollar stores, while in 2019, discount chains accounted for nearly half of all new retail-store openings.
Dollar General opened up almost 1,000 stores and plans to open another 1,000 by end of 2020. Dollar Tree and Family Dollar expects to also open 500 more stores this year.
While dollar stores at face value provide a great way to save money, they may not necessarily be good for the communities they are being built in. Many of these economically depressed, low-income communities are struggling more than ever before.
Why is this a Problem for Residents?
The growth of dollar stores is being attributed to a prevalence of crime and violence affecting local community residents. Family Dollars and Dollar Generals being placed primarily in poor towns and neighborhoods has increased the frequency of armed robberies and shootings.
An in-depth report in 2018 conducted by the Institute for Local Self-Reliance, an advocate for small businesses, showed how dollar store chains are targeting struggling city neighborhoods and small towns. Mounting evidence uncovered suggest that these stores are not a byproduct of economic distress but are actually a cause of it.
A saturation of multiple dollar stores in poor communities has made it harder for full-service grocery and retail stores to succeed. This is leaving neighborhoods vulnerable to crime without many other business around. Routine gun violence has sharply declined in cities that are prospering but has remained high in cities where these discount chains dominate the area.
Shootings and Robberies
Hundreds of violent incidents involving guns have been reported at Family Dollar and Dollar General stores. These incidents include carjackings in parking lots, drug deals gone bad, and altercations inside stores. An alarming number of armed robberies have involved employees and customers being held at gunpoint and/or shot and seriously injured or killed.
Since the pandemic, violent crimes have only gone up. Requiring customers to wear masks has increased tensions in an already tense and uncertain environment. It has also made it harder for dollar store employees to identify robbers. In May, an employee at a Family Dollar in Flint, Michigan was fatally shot for refusing entry without a mask.
Security Problems
Violence at dollar stores is also connected to issues with security. Many of these stores lack the security measures found in bigger retail stores. Lack of security guards and security cameras that are usually low-quality and poorly placed add to safety concerns with armed robberies and shoplifting happening.
There is often insufficient staff to secure a store with no security. Too few employees means not enough manpower to watch the aisles, work the cash registers as well as watch and apprehend criminals. Many discount chains have a high turnover because employees are overworked, underpaid and scared for their well-being.
General Neglect
Leaving dollar stores understaffed and allowing stock to pile up near the door makes it more difficult for employees and customers to escape shootings and robberies. Aisles are being dangerously cluttered with goods often spilling off the shelves and carts piled high with unopened and stacked boxes.
How Dollar Store Chains Are Responding
With hundreds of incidents of violent crime at discount stores, chain owners are saying that they are taking security concerns seriously but have failed to elaborate on preventive measures at their stores. Neither Family Dollar or Dollar General has publicly shared specific details with regard to how many of their stores have armed security, citing the integrity of their security systems and procedures.
Chain owners are being told that not enough is being done to maintain proper order. These companies are being seen as putting profits over employee and customer safety. Dollar General executives are more concerned about offsetting costs related to a rise in nationwide hourly wages while Dollar Tree executives are pushing productivity initiatives in stores to help them get more from fewer workers.
Measures Being Taken to Limit Stores
Cities across the nation are fighting back. Officials in Dayton, Ohio have provided crime prevention measures and safety training procedures to dollar store managers and employees.
Other cities are taking further measures by using their local authority adopt new policies to limit dollar stores to help lessen crime and strengthen their local communities. In 2018 and 2019, Tulsa, New Orleans and Birmingham passed legislation requiring new discount stores to be at least a mile apart.
As more cities continue to pass laws to block discount chains, it remains to be seen whether cities will ban these stores from impoverished neighborhoods.