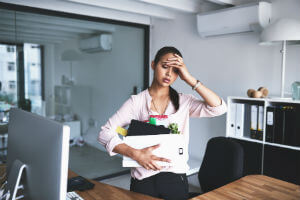 All employees have certain rights in the workplace, such as the right to privacy, to be free from discrimination or harassment, and the right to fair wages. Employment law also protects employees from being retaliated against. However, employees may still be punished by their employers for asserting their rights. When employees file complaints, either internally or to an outside agency like the Equal Employment Opportunity Commission (EEOC), it is illegal for their employers to take adverse action against them.
If you have been retaliated against for asserting your rights, you should strongly consider contacting our trusted West Palm Beach employment lawyers at Gordon & Partners. Schedule a free consultation at no risk or obligation to you to find out more about your legal options.
Why Employers Retaliate
Workplace retaliation is an illegal act that happens when an employer punishes an employee for exercising his or her basic rights. This generally occurs after an employee has been involved in filing a complaint or participates in an investigation for another employee who has filed a complaint. This can cause an employer to retaliate against an employee as punishment for a complaint. Retaliation may include discipline, demotion, reassignment, reduced pay, poor evaluations or being fired altogether.
Acts of Retaliation Prohibited
Federal law protects employees from retaliation when a complaint is filed in good faith and they have engaged in certain protected activity. This can include the following:
Filing a discrimination or harassment complaint with the EEOC
Cooperating in investigations as a witness in EEOC proceedings
Speaking to a supervisor or manager about workplace discrimination or harassment
Answering questions during an investigation
Reporting sexual harassment or unwelcome sexual advances
Resisting sexual advances or intervening to help others
Requesting a disability or religious accommodation
Refusing an employer's order that would be discriminatory
Asking supervisors about salary info to uncover discriminatory practices
Types of Workplace Retaliation
Retaliation is any adverse action taken against an employee for participating in protected activity. The most common form of retaliation is demoting or terminating an employee. Other types of workplace retaliation include:
Spreading false rumors
Verbally or physically abusing an employee
Being denied a promotion or raise
Being transferred to a less desirable position
Giving a lower performance evaluation
Threatening to report the employee to the police or immigration authorities
Reprimanding the employee
Increased scrutiny
Changing the work schedule to make the job more difficult
Reducing pay or salary
Being excluded from training opportunities or workplace activities
Being ignored at work
How to Prove Workplace Retaliation
In order to build a strong case, you must prove that your employer's act of retaliation was a result of your complaint. The best way to prove this is to establish a direct link between the protected activity you engaged in and the adverse action your employer took for filing or participating in a complaint. Unless your employer admits to retaliating against you, you must show how both activities are connected.
There are ways to provide direct or indirect evidence of retaliation. Keep a written record of any adverse actions you experienced after filing a complaint as well as any significant events that occurred beforehand. This includes gathering emails, text messages, memos and supportive documents that led to retaliation. A copy of diminishing performance reviews and statements from other employees who witnessed you being retaliated against are also critical pieces of evidence for your case.
Contact an Employment Attorney to Learn More
If you are experiencing workplace retaliation, contact an experienced employment attorney in West Palm Beach. We can help you gather the necessary information you need to hold your employer accountable for violating your rights. We can also make sure that you meet all applicable deadlines.
At Gordon & Partners, we offer a free, no obligation legal consultation to review your case and discuss the legal options available to you. All of our services are provided on contingency, which means there are no costs or fees involved unless you recover on your claim.
Call us at 1 (855) 722-2552 or fill out our Free Case Evaluation form to get started.