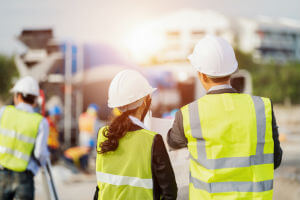 The National Safety Council (NSC) is hosting National Safety Month this June to highlight the importance of workplace safety by addressing the leading causes of injury and death in the workplace. It provides helpful information on how to reduce workplace injuries. This year's topics include hazard recognition, slips, trips and falls, and fatigue and impairment.
The workers' compensation lawyers in West Palm Beach are dedicated to helping you stay safe in the workplace. If you are injured, we are here to help recover the compensation you need.
Leading Workplace Injury Events
A core component of the event is to teach employers and employees alike about leading workplace injury events. The focus this year is on the following common workplace injuries:
Overexertion and Bodily Reactions
According to the NSC, overexertion is the leading cause of workplace injuries with more than 33 percent of injuries attributed to it. This injury is often due to lifting or lowering or repetitive motions, which can cause fatigue and impairment. Some ways to reduce these injuries include:
Provide training to workers on proper lifting procedures
Avoid bending, reaching, and twisting when lifting
Take frequent, short breaks, especially in hot temperatures
Contact With Objects and Equipment
Another main cause of workplace accidents is failing to recognize workplace hazards. The NSC reports that contact with objects and equipment account for 26 percent of workplace injuries. These injuries often occur because an employee:
Is struck by or against an object or equipment
Is caught in or compressed by equipment or objects
Is struck, caught or crushed in a collapsing structure, equipment or material
Employers can take proactive steps to reduce possible injuries by informing workers of these hazards, conducting periodic inspections and establishing control measures. They can require that heavy objects be stored closer to the floor. Employees should be provided with proper personal protective equipment. Additionally, employees should be aware of moving objects or machinery in their area.
Slips, Trips and Falls
Slips, trips and falls account for approximately one quarter of workplace accidents. This includes falls on the same level or another level, as well as trips in the workplace. Common causes of these accidents in the workplace include:
Poor housekeeping
Inadequate lighting
Wet floors
Falls from ladders
Uneven walking surfaces
Employers can establish environmental controls to prevent these accidents and train employees on the proper usage of ladders, scaffolding and fall prevention.
Safety Measures to Reduce Workplace Accidents and Injuries
Fortunately, there are many safety measures that employers can implement to reduce workplace accidents and injuries. Some of these include:
Practice effective tool safety, including inspecting the tool before use, operating the tools according to the manufacturer's instructions and disconnecting tools when not using them
Avoid distractions while driving or operating heavy machinery
Comply with safety rules and standards
Practice safe driving, such as following the vehicle owner's manual for braking techniques, maintaining speed within the speed limit and keeping a safe distance from other vehicles
Inspect all company vehicles and machinery regularly
Use mechanical aids to lift heavy loads
Provide proper training to all employees
Clean up immediately after any spills
Stay hydrated, especially during hot weather
Keep the floor surface free of debris
Wear proper personal protective equipment
Contact a Lawyer for Help With Your Claim
If you were injured at work, it is important that you seek assistance with your workers' compensation claim. You may be entitled to medical benefits, a replacement of a portion of your wages and other benefits. You will need a knowledgeable lawyer who is familiar with Florida workers' compensation laws and who can fight for your fair settlement. At Gordon & Partners, our attorneys are ready to seek maximum compensation for your case.
Schedule a free, no-obligation case evaluation today by calling 1 (855) 722-2552.