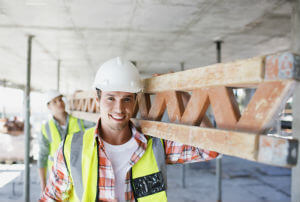 The Occupational Safety and Health Administration (OSHA) reports that construction workers are more likely to be injured on the job compared to workers in other professions. As such, OSHA has extra safety requirements for construction sites and employers to help improve the safety of construction workers.
Failing to adhere to these requirements can cause serious injuries to construction workers and may result in penalties, fines and potential legal liability for employers. Workers have the right to report these violations without fear of relation. OSHA knows that every worker deserves to be safe on the job, and it helps ensure that employers take necessary safety precautions.
Worker Rights Under OSHA
Employers are required to let their workers know of their right to work in a safe environment based on OSHA standards. Employers should post OSHA standards in a location that is accessible to workers and in a language they understand.
Companies should also inform workers about how to contact OSHA if an employee needs to report a violation of OSHA regulations.
OSHA provides that all workers have the right to:
Receive training in a language the employee understands
Work on machines that are safe
Be equipped with safety gear and appropriate clothing (as necessary)
Be protected from toxic chemicals and substances
Employees should be assured they are working in an environment that is free from safety hazards. While no construction site can be completely safe at all times, adhering to OSHA standards regarding risk-control and training can help significantly increase safety in the workplace and decrease the occurrence of work injuries .
Worker Rights to Information
Having information about your workplace can help you take steps to stay safe and ensure that your employer is properly adhering to OSHA standards. As a construction worker, you have the right to:
Review copies of regulations, requirements and standards that your employer has in the workplace related to safety
Have access to medical records and exposure records
Receive a copy of any tests that have been done to determine if there are hazards in the workplace
Review records of work-related illnesses and injuries
Workers also have the right to report OSHA violations. Employees can also request to have their name withheld if they report a potential OSHA violation. Regardless of whether an employee chooses to remain anonymous, workers have the right to be free from retaliatory action if they report a safety violation to OSHA. This includes adverse employment action or discrimination.
Employer Obligations Under OSHA
To meet OSHA requirements, companies must meet certain obligations. For example, employers must:
Tell employees about the OSHA standards that apply to their workplace
Ensure that employees have the right tools and equipment to do their job
Establish a written hazard communication program that conforms with OSHA's standards regarding container labeling, employee training and material safety data sheets
Inform employees about how they can request medical and exposure records
Knowing, understanding and following through with OSHA standards is perhaps the biggest obligation that employers must fulfill. They should share these requirements with you and implement a plan of how to complete every requirement.
Contact a Construction Accident Lawyer
If you have been injured because of an accident on a construction site, you should contact a reputable construction accident lawyer as soon as possible to determine your legal options. Injured workers may be eligible for Workers' Compensation . There may also be the possibility for third-party claims against others who may have been responsible for your injuries.
Contact Gordon & Partners today for a free case evaluation to discuss your potential claim.
Call 1 (855) 722-2552 or complete a Free Case Evaluation form.