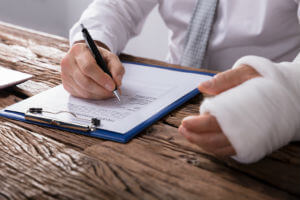 When an employee suffers an injury while working, he or she has the right to file a workers' compensation claim. Workers' Compensation provides medical benefits and partial wage replacement to workers who are injured on the job. Workers give up their right to sue their employer so that they can more readily access these benefits.
However, in some cases, a worker is injured because of the actions or negligence of a third party. Employees may not be barred from filing lawsuits seeking damages from these third parties.
If you have sustained an injury from a third party at work, it is vital to contact a qualified West Palm Beach workers' compensation lawyer at Gordon & Partners for help. We can answer your questions about pursuing a legal claim against a third party.
Common Types of Accidents Involving a Third Party
There are a wide variety of workplace accidents caused by the negligence of third parties, such as subcontractors, vendors, other employees, product manufacturers or general contractors. Some of the workplace accidents that result in third-party injury lawsuits include:
Motor vehicle accidents – If you were injured in a traffic accident while driving a company car or performing a work-related task, you may have a case against the driver who caused the crash. There are also situations when workers are injured because of the recklessness of a delivery truck driver. For instance, the driver could hit employees while pulling in or backing into a warehouse.
Co-worker assault – If you were injured when you were assaulted by a co-worker, you may be able to sue them for damages. There are also situations where a co-worker's intentional or reckless actions lead to an injury. For example, maybe a co-worker was joking around and ignored safety measures that could have prevented you from suffering an injury.
Defective product accidents – There are a variety of situations where workers can be injured by defective or malfunctioning products. For instance, maybe you were using safety equipment that did not work as intended and this resulted in you suffering an injury. There are also situations when a piece of machinery catches fire or does not function as expected. Defective product accidents include situations when workers are exposed to toxic substances. The manufacturers of these substances could potentially be held liable.
Hit-by/falling object accidents – Sometimes employees are injured because of the actions of the people they do not work with. For example, at a construction site there could be multiple employers besides your own. These employers have workers there who could act negligently and cause you injury. This often includes situations when objects fall onto workers. This can result in severe bruising and lacerations, broken bones and internal injuries.
What You Need to Prove in a Third-Party Claim
Fault is usually not a factor in a workers' compensation claim. You should be able to recover compensation if you can prove you suffered an injury during the course of your work.
However, fault is an issue in a third-party lawsuit. You must prove the at-fault party was negligent and this negligence led to you suffering an injury that caused damages.
Negligence refers to a failure to uphold a duty of care that existed in the situation in question. A duty of care is a legal obligation to act the way a reasonable person would to prevent someone else from being injured. For example, other drivers have a legal obligation to drive safely and avoid reckless behaviors, like violating traffic laws.
If you can prove a duty of care existed and was breached when your injury occurred, you will simply need to prove the existence of damages, which can be things like medical bills, lost wages, and pain and suffering.
What if I am Partially to Blame for the Accident?
In a workers' compensation claim, it does not matter if the victim is partially at fault. If he or she suffered a covered injury, he or she will likely be awarded benefits.
However, personal injury lawsuit s are governed by Florida's pure comparative fault system. This means your compensation award will be reduced according to your percentage of fault in the accident. If you are 40 percent at fault, your total award will be reduced by 40 percent.
This is a much more forgiving system than what is used in other states. Some states bar you from recovering any compensation if you are at fault, even if it is just one percent. Other states prohibit you from recovering compensation if your percentage of fault is above a certain percentage.
Contact a Lawyer to Start a Claim
If you were injured in a work accident involving a third party, contact the skilled legal team at Gordon & Partners to discuss what legal options are available to you. We will evaluate your claim and develop a legal strategy that is customized to your circumstances.
We offer a free, no-obligation consultation so that we can learn about your claim and discuss how we can help you. Because we work on a contingency fee basis, there are no upfront fees and you only pay us for our services if we help you recover compensation for your accident.
Complete a Free Case Evaluation form or call us at 1 (855) 722-2552.