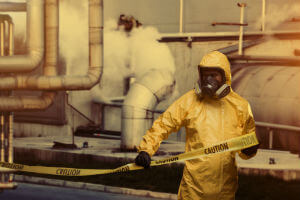 In some industries, workers are exposed to toxic chemicals or substances, often on a daily basis. These toxins can cause serious injuries or even death. Employers have the legal responsibility to ensure that employees have a safe working environment free from harm. However, sometimes those safety precautions are simply not enough to protect workers from being exposed to toxins and suffering an injury or illness.
At Gordon & Partners, we believe in your right to a safe and healthy workplace. If you were harmed due to exposure to toxins at work, our experienced Workers' Compensation lawyers in West Palm Beach can help you file a claim and pursue compensation for your injuries.
Types of Toxic Exposure at Work
Some of the most common types of exposure to toxins at work include the following:
Ammonia
Arsenic
Asbestos
Benzene
Chloroform
Chromium
Ethylene oxide
Formaldehyde
Hydrogen peroxide
Iodine
Lead
Mercury
Methylene chloride
Silica
Solvents
Toluene
Uranium
Zinc
These chemicals and other substances are often dangerous and require the employer to place important safety precautions in place to minimize the potential harm to a worker.
Exposure to these toxins can cause serious injuries, including the following:
Allergic reactions
Irritant contact dermatitis
Lung cancer
Mesothelioma
Neurological damage
Occupational skin diseases
Respiratory problems
Skin cancer
Skin infection
Systemic toxicity
What to Do If Exposed to Toxins
If you believe that you have sustained an injury or developed an illness because of your exposure in the workplace to toxins, the first step is to seek medical treatment. The doctor will evaluate your condition. You should also promptly report your injury to your employer. You have 30 days under the law to report your injury, but it is better to report your injury as soon as you know about it. Also, your employer can refer you to an authorized doctor who is part of the workers' compensation process.
You should follow all of your doctor's orders and work with your employer to minimize your contact with dangerous toxins in the workplace.
Filing a Claim Despite Employer's Precautions
You can still file a workers' compensation claim even if your employer took precautions to prevent your exposure to toxins. Under this system, workers' compensation is not based on fault. This means you give up the right to sue your employer in exchange for being able to receive benefits without having to show your employer was negligent.
Benefits Available to Injured Workers
Injured workers may be entitled to receive a number of benefits under Florida's workers' compensation system. Some of these benefits include:
Medical Benefits
Once an employer's workers' compensation insurance company is aware of the work-related injury and determines that it is covered under the workers' compensation law, it provides an authorized physician to the injured worker. It is responsible for paying for all necessary and medically-authorized care and treatment stemming from the work-related injury or illness. The following may be paid by the workers' compensation coverage:
Doctor visits
Hospitalization
Prostheses
Medical tests
Physical therapy
Prescription medications
Travel expenses to and from authorized medical treatments or pharmacies
Wage Replacement Benefits
Florida workers' compensation law requires employers to replace a portion of an employee's wages if he or she is unable to work or his or her wages are reduced due to a work-related injury or illness. To receive these benefits, the worker must have been disabled for at least seven days and not be able to perform the normal functions of his or her job, according to an authorized doctor. Benefits equal two-thirds of an employee's weekly wage, subject to a state maximum.
Learn More About Your Legal Options
If you suffered a workplace injury or illness due to exposure to toxins, you should contact the experienced team of attorneys at Gordon & Partners. We can help explain your rights, identify the responsible parties and explain your options for compensation.
There are no upfront costs or legal fees for our services unless you recover adequate compensation.
Schedule a free, no obligation consultation with us today by calling 1 (855) 722-2552.