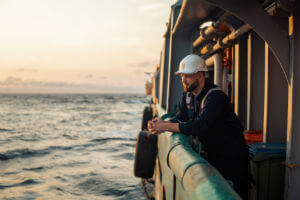 When a maritime worker is harmed in an offshore accident, he or she may be unable to work for an extended period of time. In these situations, injured maritime workers often wonder about their rights and their employer's obligations regarding medical care.
Maritime law requires that you seek immediate treatment after a serious injury. You are not restricted to seeing a company doctor or staying onboard a vessel or platform. You have the right to be treated ashore by a doctor of your choosing.
Our legal team is prepared to further discuss your rights and available legal options during a complimentary consultation. We are committed to helping our clients recover fair compensation.
Rights as an Injured Maritime Worker
When an injury happens offshore, maritime workers have certain rights. This includes the right to paid medical care, including medications and physical therapy, as well as loss of wages while in recovery. Injured maritime workers may be eligible for these benefits regardless of fault.
However, maritime employers have a legal obligation to act in a reasonable manner in their operations offshore. This includes providing proper medical attention to treat an injured worker.
If you can prove that your employer, the owner of the vessel or someone else aboard the ship is directly liable for your injuries, you may be eligible to receive compensation. This would require establishing that the other party owed a duty to you, this duty was breached because the other party neglected his or her duties, and that carelessness led to you getting harmed.
A West Palm Beach maritime lawyer from our firm is ready to help prove negligence and obtain the compensation you need. We work hard to pursue maximum compensation for our clients.
Medical Care Under the Jones Act
The Jones Act is a federal law that provides compensation for maritime workers who are injured at work. This law allows injured maritime workers to not only have their past and current medical expenses covered, but also any future medical expenses. This could include, but is not limited to the following:
Medical exams and tests
Surgery
Prescription medications
Travel costs to doctor visits
Specialized equipment
Rehabilitation
Physical therapy
Counseling
Mental health treatment
What If an Employer Fails to Provide Treatment?
When a maritime employer does not provide medication attention for an injured worker, this is considered negligence. Any injuries a maritime worker suffers that become aggravated by his or her employer's failure to provide appropriate care and treatment also falls under this category.
Under the Jones Act, an injured maritime worker who spends over 30 percent on a sea-faring vessel could be able to file a claim and seek compensation for an injury caused by negligence.
What to Do to Protect Your Recovery
If you suffer an injury offshore, your employer would likely send you to the ship's doctor for treatment versus returning to shore. The goal is to get you back to work quickly, but with limited medical supplies and services at sea, your injuries may be more serious than you think.
Fortunately, there are certain things you can do to help protect your recovery:
Return ashore as soon as possible – You have the right to return ashore for treatment. However, delaying treatment for too long could put your well-being in jeopardy and could be used against you if you decide to file a claim for compensation.
Select your own doctor – Although your employer may recommend a doctor to use for treatment, you have the right to choose your own doctor. An existing relationship with a doctor is best. Regardless, your employer would be obligated to cover your medical costs.
Follow your doctor's orders – It is important to attend every follow-up doctor visit and abide by the treatment plan. Returning to work too soon or performing an activity you were not ordered to do would make it more difficult to seek compensation for your injuries.
Contact a Lawyer From Our Firm Today
At Gordon & Partners, we understand maritime worker's rights. We know what it takes to hold maritime employers accountable and how to determine the settlement value of these cases. If you have questions about your rights, there is no risk in calling our firm to learn more.
Our consultations are 100 percent free. You are not obligated to retain our services, but if you do, we charge nothing up front. We only get paid at the end of the claims process if you do.