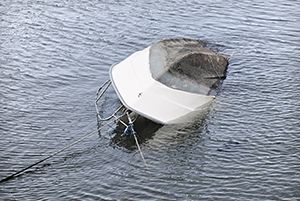 As a capsized boat is found in the search for two missing Florida teens, the Coast Guard announces that it plans to continue its search. The U.S. Coast Guard said the boat was found 67 miles off Ponce de Leon Inlet in Volusia County. Officials say the boat cover was missing and at least one personal flotation device was still onboard.
Officials say Perry Cohen and Austin Stephanos were last seen in Jupiter, Florida on Friday, when they bought just over $100 worth of fuel before setting out on their trip.
According to the Coast Guard, the 14-year-old friends are experienced boaters. They were on a 19-foot, single-engine center console boat when they were reported missing around 5 p.m. Friday night. Family and friends say the duo wasn't expected to go far, but may have headed towards the Bahamas where they have vacationed in the past.
Families of Florida teens missing at sea not giving up hope, mother says
Tequesta officers, along with the Palm Beach and Martin County Sheriff's Offices, the Florida Fish and Wildlife Conservation Commission and the U.S. Coast Guard, searched through the night for the teens.
While multiple air and sea search teams are working on this case, some meteorologists say afternoon storms expected Monday may hinder search efforts. There could be a mix of lightning and gusty winds.
To provide constant updates on the search, family and friends have been using social media channels and the hashtag #findaustinandperry.
NFL legend Joe Namath along with both families of the two missing teens are offering a $100,000 reward for their safe return.
Our thoughts are with the family and friends. We will keep you updated on the very latest developments.