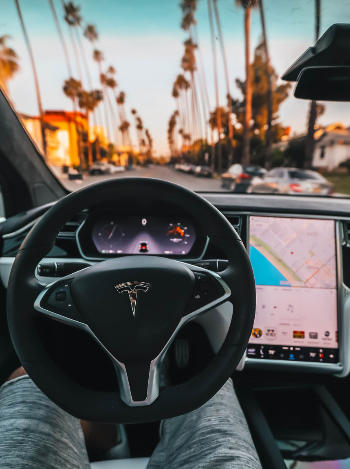 Decades ago, cars needed drivers. Nowadays, you might see them hustling on missions without a human driver behind the steering wheel.
Like other cars, autonomous vehicles can crash. If you experience a self-driving car accident, you might feel like you are in uncharted waters.
Who is at fault? How do you contact the liable party? Can you hold a self-driving vehicle manufacturer accountable for damages?
The reliable attorneys of Gordon & Partners can answer your questions. More importantly, an experienced attorney can help you hold the at-fault party responsible for damages caused by a self-driving car accident.
The 3 Levels of Autonomous Vehicles You Should Know
Many cars have driver assistance technologies. At the other end of the spectrum are fully autonomous driving cars.
Vehicles fall into 6 levels of automation. Let's look at a few to get an idea of what technology you might encounter on the road.
Level 0: Momentary driver assistance
Human drivers operate the vehicle, but systems provide convenience-based support or emergency safety interventions, such as:
Automatic high beams: Headlights automatically change from high to low when oncoming cars approach
Automatic emergency braking: Brakes engage when a front-zone accident is imminent
Blind spot and forward collision warnings: Warnings sound when systems detect a vehicle in a potential crash zone.
Crash notifications: Systems alert emergency responders and send location details after an accident
Cruise control: Preset speeds adjust automatically, maintaining a set distance between cars
Lane departure warnings: Cars alert the driver when approaching or crossing lane markers
Rear Cross Traffic Alert: Systems notify drivers when the backup camera detects an obstacle
Level 0 technology aims to make driving more convenient and safe.
Level 3: Conditional automation
A Level 3 autonomous vehicle can handle driving tasks, but drivers must always be ready to take over. Systems should prompt the driver when to control the car.
Level 5: Full automation
Full-automation self-driving technology performs all driving tasks. Either the driver's seat is empty, or riding humans are merely passengers.
For example, one Tesla model features autopilot and traffic sign control, which require minimal human driver intervention. Yet, the manufacturer states that, though the self-driving car has "full self-driving capability," it is not autonomous. Drivers must actively supervise their rides.
Autonomous cars have many potential benefits. Advanced driver assistance systems can reduce the risk of car accidents, increase mobility for non-drivers, and improve transportation efficiency. Yet, self-driving cars have already created challenging implications.
When function does not match a car's perceived level
One of the most well-known self-driving car manufacturers, Tesla, has faced multiple investigations and lawsuits. Customers who bought cars with Tesla's autopilot system and full self-driving features claimed that the company used misleading marketing materials and fraudulent statements.
Data examined by the courts included a 2016 commercial showing a Tesla driving entirely independently of its human occupant. Yet, at the time of the lawsuit, "no Tesla on the road today [was] capable of self-driving."
The plaintiff and other disgruntled owners tried suing Tesla in a class action lawsuit. Typically, courts decide whether or not promotional material includes a marketing defect.
Yet, most users had signed a contract upon purchase agreeing to arbitrate any legal claims with the company. Another plaintiff who did not sign an arbitration agreement lost the opportunity to sue because of the statute of limitations on the liability case.
Cases like these bring into question the capacities of self-driving cars. Are software programs sophisticated enough for full automation without a human operator? Are motorists capable of paying attention when they are not actively driving?
When Self-Driving Technology Failed
Manufacturers and operators of self-driving vehicles must report certain crashes that occur, even during testing phases on public roads. In other cases, the self-driving cars sensed the accident and reported trouble. From the first crash report in 2021 to May 2022, the NHTSA received data on 130 ADS-related car accidents.
Over 100 of the specified accidents reported no serious injuries. Yet, 4 crashes resulted in moderate to severe injuries. The accident data is disturbing:
Vulnerable road users like bicycle riders, motorcyclists, and pedestrians were injured in 11 crashes
7 self-driving cars collided involved poles, trees, or other fixed objects
18 incidents involved large automobiles like heavy trucks, pickups, and vans
The maker of any dangerous product can be held liable. An attorney can help you determine who is at fault for your car accident.
When facing changing road conditions
A driverless Cruise car drove into a San Francisco construction project site and got stuck in wet concrete. Apparently, the self-driving car software failed to detect construction cones, workers with flags, and the look of wet concrete.
When running on autopilot
Joshua Brown, the 40-year-old owner of an early Tesla model, was killed in May 2016 in Florida. His car drove under a tractor-trailer truck without reducing its speed of 70 mph. Data published by the manufacturer state that neither the driver nor the camera relied upon by autopilot software detected the other vehicle against the glare of a bright sky.
A 38-year-old man died in March 2018 when his Tesla slammed into a concrete barrier at around 70 mph. The self-driving car was running on autopilot mode. Family members filed a wrongful death lawsuit in 2019, alleging data showed the navigation system of the autonomous vehicle misread the lines on the roadway and accelerated into the median.
In Arizona, a self-driving Uber SUV struck and killed a pedestrian in an accident in March 2018. In this case, the driver behind the wheel relied heavily on the automated system to control the car. Investigations showed that the impact occurred because the autopilot failed to recognize the object on the road as a pedestrian. The emergency braking feature was disabled at the time of the crash. The ridesharing company settled with the 49-year-old victim's family, avoiding a court trial.
In March 2019, Jeremy Banner died when a semi-truck pulled across the road. His autopilot failed to distinguish the side of the tractor-trailer and drove underneath it. The incident killed the 50-year-old driver, but the other driver was unharmed. Banner's family filed a personal injury lawsuit, naming the car manufacturing and the trucking companies as liable parties.
In 2019, both occupants of another car were killed when an autonomous vehicle crossed into oncoming traffic after running a red light. The victims' families seek to hold the car operator and Tesla liable in two separate lawsuits.
Many cars equipped with automated driving systems (ADS) are still in development.
Opponents blame self-driving car companies for beta testing software in the real world.
Fans of self-driving cars might claim that the autopilot system eliminates human error. But who shoulders the liability when there is an accident? As in these examples, some cases blame the car operator, while other lawsuits place liability on the car company.
Why are self-driving cars colliding with people, vehicles, and fixed objects? Accidents will continue if autonomous vehicle software cannot detect obstacles and respond appropriately.
What to Do After a Self-Driving Car Accident
When facing a painful situation, don't you appreciate having helpful relatives offer support to you? Similarly, you can find the support you need after a self-driving car accident at Gordon & Partners. Our attorneys can provide professional legal assistance and compassionate service to victims while aggressively pursuing compensation from the liable party.
If the popularity of self-driving cars continues to increase, the world will face unprecedented times. We hope that one day everyone will be safe on the roads. Yet, when the worst happens, the legal team at Gordon & Partners is ready to rise to the challenge.
If you or someone you love experienced an accident with a self-driving car, who is responsible? Please contact our law firm at (855) 722-2552 to schedule your free consultation with us today. Our lawyers can help you determine your next steps to pursue damages.