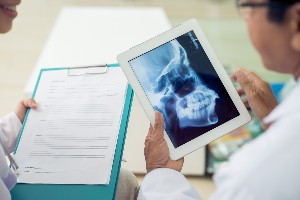 The impact of a crash can cause the body to experience a great amount of force all at once. Even seemingly minor car accidents occurring at low speeds can cause the body to be subjected to tons of force. This force can may result in immediate pain or cause delayed injuries or hidden symptoms.
Injuries to the head and neck, including jaw and ear pain, can manifest gradually after a crash. Pain and tenderness in the jaw and ringing in the ears could be indicative of a more severe injury or underlying health problem. Below, our attorneys discuss more about jaw and ear pain after a crash, including how it can affect your quality of life and the importance of seeking prompt medical treatment.
Gordon & Partners offers free initial consultations with no obligation to hire our firm. We have helped many crash victims over the years obtain the maximum compensation possible for their injuries. If you have a valid case and decide to have us represent you, we charge zero upfront fees. We only get paid if you do.
Causes of Jaw Pain After a Car Accident
The only part of the skull that can move is the jaw, also known as the mandible. The size of the jaw does not stop at the chin. It is a lot larger. The hinge of the jaw starts at the cranium in the front of your outer ear. The mandible enables a broad range of motion and the ability to exert a great amount of force when the jaw is moving. For instance, when biting or chewing something.
The jaw muscles can be quite fragile due to this versatility. Any stress to the jaw can cause disruption to eating, sleeping, talking and other day-to-day activities. Issues with the muscles or ligaments surrounding the jaw could be the result of injury to the temporomandibular joint. This injury is more commonly referred to as a TMJ disorder.
Symptoms of TMJ disorders include:
Pain at the site of the joint
Tenderness in the jaw
Difficulty with chewing
Ear and facial pain
The jaw feels "locked"
Ringing or popping in the ears
A TMJ injury can occur due to severe impact to the neck or skull area in a crash. One of the ways this could happen is if you hit your head on a something, such as the steering wheel or dashboard.
Whiplash, so called because of the whip-like motion that occurs when the neck and head are thrown in one direction then swiftly back the other way, can also cause TMJ symptoms. Although these injuries are internal and not always immediately apparent, they can be severely painful.
Additionally, jaw disorders are unlikely to resolve on their own since the jaw is constantly in use. This is why it is important to not ignore any kind of jaw pain you may have after a car accident.
Causes of Ear Pain After a Car Accident
The inner ear is also a fragile and complex part of the skull. Damage to the inner ear can happen due to force or sudden changes in air pressure. The impact of a crash can also blow debris into the ear or cause other conditions that may damage the ear canal.
Symptoms of an ear injury include:
Severe pain
Ringing in the ears
Feeling dizzy
Nausea
The ear feels "clogged"
Difficulty hearing
Ringing in the ears after a car accident could be caused by whiplash or some other severe injury that requires prompt medical treatment. Bleeding or fluid discharge from the ear canal could indicate a possible skull fracture or spinal injury. This is why ear pain should not be taken lightly.
How Jaw and Ear Pain Can Affect Quality of Life
Jaw and ear pain can affect a crash victim's quality of life in many ways. Chronic jaw and ear pain can interfere with your sleep. Medications prescribed for TMJ disorders often make it hard to think or focus on work tasks.
It can also get in the way of your everyday activities. A jaw disorder could inhibit your ability to eat and drink or cause pain or sensitivity in your teeth or gums. Depending on the severity of your condition, you may need to see a physical therapist to help regain the strength and proper movement of your jaw muscles. Both jaw and ear pain can cause physical, mental and emotional pain and suffering.
Prompt Medical Treatment for Jaw and Ear Pain
After a crash, seeing a doctor as soon as possible is important to a victim's health, recovery and potential legal claim. Some injuries, including jaw and ear pain, may not manifest right away but can be worse as time passes if you delay or refuse seeking medical treatment.
It is important to see a licensed medical professional who can help to identify the extent of your injuries. He or she will also be able to provide an appropriate treatment plan to aid in your recovery.
Get the Legal Help You Need After a Crash
If you have been injured in a car accident, do not hesitate to contact a reputable West Palm Beach auto accident lawyer at our firm. You may be eligible to pursue compensation to cover your medical bills, lost wages from missing work, and pain and suffering. The initial consultation comes at no cost to you.
Our firm has a proven track record, recovering millions of dollars in compensation on behalf of our clients. There are zero upfront costs to pay and also no fees while we take or work on a case.
Learn about your legal options: 1 (855) 722-2552