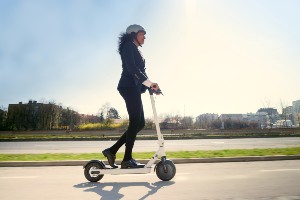 Scooters, specifically electric scooters (e-scooters), are everywhere these days. They are convenient to use, especially in warmer areas, like south Florida, where they can be ridden year-round. As scooter popularity grows, so do the questions about their use and traffic safety.
What happens if a collision occurs? Are the drivers of a motor vehicle always to blame? What if a pedestrian is hit by a scooter? How do you know when there is a valid injury case for compensation?
If you have been injured in an electric scooter crash because of another person's negligence, you may be eligible to recover compensation.
Call our firm anytime, night or day for a free legal consultation. Our experienced attorneys in West Palm Beach have recovered hundreds of millions for our clients. Call our firm 24/7 to discuss your situation and learn about your potential for a legal case. We are prepared to help.
What is a Scooter in Florida?
Scooters generally have a kick stand and may be manually or mechanically powered. However, for the sake of this article, the discussion is only in reference to motorized scooters, electric scooters and e-scooters. They do not have a saddle or a seat for riders to sit on and have no more than three wheels. When in use, these scooters travel on the ground and cannot exceed 30 miles per hour.
Since there is neither a seat nor a saddle, this is not a vehicle that can be titled or registered in Florida.
It is important to note that before renting or using any electric scooter in West Palm Beach, riders should fully review both local and state laws.
Who May Be Liable for Causing a Crash With a Scooter?
The short answer is that, depending on the circumstances, anyone could be liable for a scooter crash. Most collisions involve human error or negligence, and everyone has a duty to help prevent harm to others. This is the law whether you are a pedestrian, driver, bicyclist, motorcyclist or scooter rider.
Here are some more specific examples of who could be liable for causing an electric scooter crash:
Driver Liability for Hitting a Scooter
Similar to hitting a pedestrian or cyclist, a driver will be liable for the crash if he or she was distracted, impaired, or breaking a traffic law. However, there are times when liability may not be straightforward.
For instance, say a driver was following traffic laws and watching the road, but a scooter rider dashed into traffic without warning. In this situation, the driver may not have been able to brake in time to avoid hitting the rider. The scooter rider could share at least partial liability for the crash in this case.
Scooter Riders
Just as with pedestrians, riding on a scooter does not give the rider the right to ignore safety laws. Scooter riders owe a duty of care, just as drivers do, to themselves, to pedestrians and to other vehicles on the road.
If someone "jay rides" or "joy rides" through traffic, it could lead to a crash. The scooter rider has a lot more vulnerability than a vehicle, so following safety laws could help you avoid serious injury.
Additionally, a scooter rider could be liable for running into a vehicle and causing property damage or running over a pedestrian and causing physical harm.
Manufacturer Liability
If the scooter has a defect that results in a crash, then the manufacturer may share full or partial liability for the resulting damages.
Rental Company
If the scooter was not personally owned but part of a ridesharing program, liability can be trickier. Before renting a scooter, the rider will likely have to sign a rental agreement, which may include a waiver. Liability waivers are more and more common these days, and they are used to excuse the rental company from any liability if the rider gets injured. Be sure to read and understand these waivers before you agree to them. They may be hard to dispute in a legal claim.
City Liability
There are situations in which even the city could be held liable after an injury with a scooter. For instance, there may be an injury case if a scooter rider gets injured on a poorly maintained roadway the city manages.
There may be others who could be fully or partially liable for the damages someone suffers in an accident with a scooter. However, it is not enough to suspect liabiltiy. The injured victim – or his or her attorney – must prove there was negligence. If there is no negligence, there is no case.
This is one of many reasons why victims should contact an attorney immediately to discuss their situation.
How is Fault Assessed for a Scooter Crash?
To determine liability for a crash with a scooter, investigators will need to examine the evidence and speak to witnesses who may have seen what happened. Sometimes the way the crash happened may provide significant insight about who may be to blame.
For instance, if a scooter rider runs into the side of a vehicle. The damage may show that the rider did not slow down to check for traffic before darting into the road to cross it.
Similarly, if a driver runs a red light and hits a scooter in a designated crossing area, he or she would likely be held liable for the damages.
More often, however, a crash with a scooter could be complicated and liability less straightforward. Having a knowledgeable attorney to manage your case could greatly benefit your claim.
Is Compensation Possible After a Crash With a Scooter?
Obtaining compensation for your damages after a crash with a scooter may be possible. However, it will almost certainly be complicated.
If you are a driver with car insurance, your Personal Injury Protection (PIP) insurance will help to cover your damages. However, in Florida, scooters are not classified as motorized vehicles. For this reason, scooter ridersare specifically excluded from collecting benefits from PIP insurance. That said, if you were hit as a scooter rider, you may still have a claim, as with any car crash, against the driver's insurance.
It is important to speak to an attorney as soon after a crash with a scooter as possible. He or she can help you to understand what compensation may be available to you in this situation.
Contact Our Firm to Discuss Your Scooter Crash
At Gordon & Partners, we know what evidence is needed to build a strong claim on your behalf. At our firm, we have been helping injury victims for decades and have a history of proven results.
We charge no upfront costs if we represent you, and we also do not collect our fees while working on your case. Learn more about your legal options in the free case review we offer. There is no obligation to hire our services after this meeting.
Experienced Lawyers. Proven Results. 1 (855) 722-2552