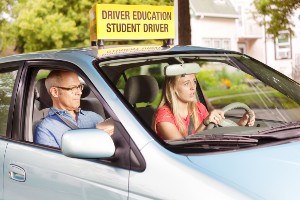 Driving school helps student drivers to gain more confidence while building their behind-the-wheel skills. However, what happens if a drivers' ed student causes a crash? Is the injured victim on the hook for the damages?
Gordon and Partners explain more about a car crash claim involving a student driver and how injury victims can seek compensation for their damages.
Unsure who to file your car crash claim against or if you even have a claim? You can find out for free by calling our law firm right now. We have staff available 24/7 to set up a free case review with one of our qualified attorneys.
Get answers to your questions and learn about your legal options. If you choose to hire our services, there are no upfront costs to pay. We do not get paid unless we recover compensation for your damages.
Can a Driver's Ed Student Be Liable for a Crash?
Driver's ed students must complete several steps before getting a learner's permit in Florida, including taking and passing a written test. This process helps to ensure student drivers gain a solid understanding about road safety and state traffic laws before getting behind the wheel.
Despite their inexperience, however, driver's ed students still owe a duty of care to others on the road. This duty requires them to take steps to prevent causing harm to others, including drivers, bicyclists, and pedestrians.
Some examples of how a driver's ed student may be held liable for causing a crash:
Ignoring road signs or traffic signals: Student drivers are not excused from traffic laws
Texting and driving: Even using voice commands is risky for novice student drivers
Following too closely: Tailgating is illegal and could cause a rear-end crash
Speeding: Exceeding posted speed limits could cause a crash and result in a ticket
What about the driving instructor? If the student was driving negligently, could the instructor be responsible for the crash?
Could the Instructor Be Liable if a Driver's Ed Student Causes a Crash?
It depends on events leading up to the crash, but very likely, yes. The instructor could possibly be held at least partially liable for a crash involving a driver's ed student. Instructors are responsible for ensuring student drivers are following traffic laws and road safety. Even if a student commits a driving error or traffic violation, instructors are supposed to be prepared to take over and help prevent a crash.
For example, if a student was following too closely behind another vehicle and that vehicle suddenly stopped. In that scenario, the instructor would be expected to use the dual controls and apply the brakes to avoid hitting the vehicle in front.
Even if the driving school's vehicle does not have dual controls, the instructor could still be liable for being inattentive. Had the instructor not been negligent in this way, he or she could likely have corrected the student before there was a crash risk.
Could the Driving School Be Negligent When a Driver's Ed Student Causes a Crash?
It is possible, but it depends on the factors of the case. An attorney would need to determine whether a driving school could be liable on a case-by-case basis.
For instance, the driving school might be held liable for negligent hiring practices if the instructor had a poor driving history. Driving schools should be doing background checks on their instructors before hiring them to train student drivers.
Vehicle Maintenance is the Driving School's Responsibility
The driving school could also be held liable for a crash if it was due to poor maintenance and that led to the crash in some way.
For example, say the student driver applied the vehicle's brakes at a red light but the vehicle failed to stop, resulting in a crash. If the investigation found that the brakes were worn out, then the driving school could be held liable for not maintaining its vehicles properly.
What if the Crash Was Due to a Vehicle Defect?
If the car crash was due to a defect in the vehicle, liability may fall to one or more parties, depending on the situation. For example, going back to the student driver applying brakes at a red light. If the brakes failed, an investigation might reveal the brakes had been properly replaced by the driving school but they were defective. The liable party in that scenario could be either the product manufacturer or the auto shop that replaced the brakes.
As you can see, determining liability for a crash with a driver's ed student could quickly become complicated. Hiring a qualified attorney with experience handling car crash claims could greatly benefit you if you have a valid case.
How is Liability Determined For a Crash With a Driver's Ed Student?
If you suffered injuries in a Florida crash, you will be able to seek compensation for your injuries regardless of fault. However, Florida's no-fault insurance policy may not be sufficient to cover all of your damages.
For this reason, fault still must be assessed after a car crash. It is important to mention that a crash scene investigator will not automatically assume the driver's ed student was at fault for the collision.
The burden of proof falls on the injured victim seeking compensation. This means that you or your attorney will need to establish negligence. Your attorney will seek to do this by proving:
One or more parties owed you a duty of care to prevent causing you harm
The at-fault party or parties breached that duty
That breach led to a crash and caused your injuries
Your injuries were the direct result of the crash and resulted in damages, such as medical costs or lost wages
Who Pays for a Crash Caused By a Student Driver?
There could be multiple insurance policies available in this situation, which could include:
Liability Insurance Covering the Student Driver
Although driver's ed students are unlikely to carry their own auto insurance policies, they must have proof of coverage before they are allowed to get behind the wheel. Most likely, they will be covered under the auto insurance of a parent or legal guardian.
The Driving Instructor's Insurance
The driving instructor, if employed by a driving school, will not be using their personal auto insurance. However, they are required to get commercial auto insurance coverage. If the instructor is an employee and not a contractor, the driving school may provide liability insurance coverage.
If the driving instructor is liable for the crash, then you may have a claim against his or her commercial insurance policy.
Liability Against the Driving School
The driving school must carry liability insurance for its vehicles. Depending on the circumstances of the crash, you may be eligible to recover at least some of your damages against that policy.
Other Driver's Involved in the Crash
If one or more drivers are involved in the collision, such as for a multi-vehicle accident, there may be additional sources for recovering compensation for your damages.
What if I Am Partially At Fault for the Crash?
Florida's pure comparative negligence rule allows you to seek compensation for up to the other driver's percentage of fault. However, any compensation awarded will also be reduced by your percentage of fault.
Say, for example, that an investigation reveals the student driver was 90 percent at fault for the crash and you were 10 percent to blame. In that scenario, you may be able to recover up to 90 percent of your damages from the student driver's liability insurance.
Call Our Law Firm for Legal Help Today
Regardless of the type of crash that caused your injuries, our auto accident lawyers in West Palm Beach have decades of experience and a history of proven results. We have recovered millions for our clients and are prepared to recover the maximum possible compensation on your behalf.
Contact our law offices today to request your free, no-risk case review. If you choose us to represent you, there are no upfront costs to get started and no fees unless we win your case. We are here to help.
Experienced. Local. Lawyers. 1 (855) 722-2552