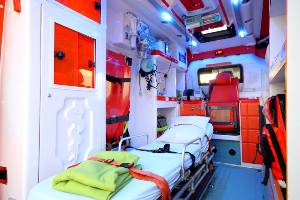 Sometimes crash victims may refuse medical treatment at the scene because they do not feel much pain or think that their injuries are serious. However, refusing medical treatment after a crash could affect your claim in several ways. It could make it easier for the insurance company to offer you less compensation.
At Gordon & Partners, we advise all of our clients to seek medical care as soon as possible after a crash to help protect their health, recovery and potential legal claim. If you have been injured in a crash due to negligence, learn more about how our attorneys may be able to help you during this difficult time.
We offer an initial consultation at no cost, risk or obligation to you. If you have a viable claim, we charge zero upfront fees to hire our firm. We only get paid for our services if we help you obtain compensation.
Do I Have the Right to Refuse Medical Treatment?
Each state has its own laws regarding the right to refuse treatment. Under Florida law, any competent individual has the right to refuse any medical treatment regardless of his or her medical condition. This includes the right to refuse life-saving medical treatment based on an individual's religious beliefs.
Florida Courts have also stated that an incompetent individual has the same right to refuse medical treatment as a competent individual. For instance, in cases where a crash victim lacks cognitive function, or the crash victim is under the age of eighteen (the legal age of consent).
Reasons Crash Victims May Refuse Medical Care
There are many reasons a crash victim may refuse medical care at the scene. They may feel fine. They might not think they are injured or think that their injuries are minor and not a big deal.
However, adrenaline takes over after a crash. This may mask any initial pain and discomfort you are feeling after the crash. You may not realize you are injured until the adrenaline wears off.
Other times crash victims may refuse treatment because they do not trust doctors or do not like going to the hospital. They may be fearful of seeing a doctor and being diagnosed with something. A crash victim may decide to suffer in silence in the hopes that the pain goes away.
Some crash victims may have religious beliefs that prevent them from receiving medical care, such as blood transfusions or undergoing certain procedures. This may include all types of modern medicine.
Although most of these reasons may seem valid, the insurance company may not necessarily agree. They will likely see a refusal of medical care as an excuse to argue that your injuries are not real or as serious as you claim. You do not need to give the insurance company any more arguments to use against you.
How Refusing Treatment Could Affect Your Claim
There are several ways refusing treatment could affect your claim. The insurance company is more likely to devalue your claim, offering you a lowball settlement that does not reflect the true value of your claim. If your claim is denied, you will not be able to receive any compensation for your damages.
Unlike an attorney, the insurance company is not looking out for your best interests. Their main objective is to save themselves money, which means paying out as little as possible in claims.
At Gordon & Partners, we know how insurance companies think and the unfair settlement practices they attempt to use on crash victims. The initial consultation with a member of our legal team is free.
Dangers of Hidden Injuries
Many different injuries can happen after a crash. Certain injuries may not be immediately apparent. In some cases, your injury's symptoms may be delayed for several hours or even days following the crash.
For instance, the symptoms of a whiplash injury may be delayed and may appear about 12 hours after a crash or as late as five days. Concussions may be mistaken for other medical conditions or not diagnosed right away. The symptoms of a back injury may also be delayed or masked by adrenaline after a crash.
Delaying treatment after a crash can cause a hidden or existing injury to get worse or cause a new injury. Even injuries that appear minor can become more serious and life-threatening without medical care.
Longer Time to Recover
Prompt medical care can help speed up your recovery. If you do not attend your medical appointments and follow your doctor's treatment plan, the road to recovery will be longer.
Refusing medical treatment at the crash scene also means having to wait to file your potential legal claim. You may not be able to obtain the compensation you need as soon as you would like to.
More Damages
A longer recovery time may also result in more damages. For instance, perhaps your medical bills are higher because your injury got worse, and you needed in-depth treatment. Perhaps you had to miss more days from work while in recovery because medical care was initially delayed.
Oftentimes, the larger the claim, the longer it will take for the insurance company to act. When a lot of money is involved, the insurance company will likely take their time to ensure they are not overpaying or fight hard to avoid paying out compensation altogether.
Comparative Negligence Claims
Florida follows a pure comparative negligence rule. This means that damages are awarded in proportion to a crash victim's contribution to the crash. Since the law expects you to take measures to reduce your damages, if you refuse medical care at the crash scene, this rule could be used against you.
The other party and his or her insurance company could ask the judge to apply the comparative negligence statute to your claim, reducing the amount you may be able to recover in damages.
Injured in a Crash? We Are Here to Help
Throughout the claims process, you need a legal advocate on your side who can fight for your rights. An experienced West Palm Beach auto accident attorney at our firm is ready to review your situation, answer your questions and discuss your available legal options in a free initial consultation.
If we represent you, we can communicate with the insurance companies on your behalf to pursue fair and just compensation. There are no upfront fees for our services unless we recover compensation.
Call Anytime Day or Night: 1 (855) 722-2552.