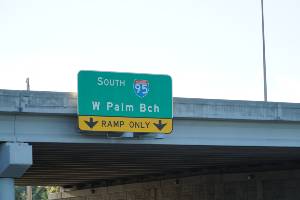 While the summertime brings longer days and plenty of sunshine, this time of year also brings increased driving dangers. Driving in South Florida can be particularly dangerous during the summer months.
A large percentage of car crash deaths happen between July and September, according to the National Highway Traffic Safety Administration (NHTSA). In Florida, August is often the deadliest month of the year for drivers.
Our legal team discusses some of the most common summertime driving dangers and how you can stay safe sharing the road with other drivers. If you have been in a crash due to negligence, Gordon & Partners is here to help. The initial consultation we offer is free of charge and comes with no obligation to hire us.
Increased Traffic on the Road
Summertime means increased traffic on the road. Children are on summer vacation and families are planning road trips or going on vacation. There is more traveling across the state, making the roads more congested. The likelihood of a crash happening also goes up. Heavy traffic can also lead to road rage, which is why it is important to be patient and plan for heavier traffic during the summertime.
More Inexperienced Drivers
There are many more teen drivers on the road in the summertime. They are generally less experienced and more likely to make poor driving decisions. Teen drivers are often more distracted than other drivers, which means they are more likely to cause a crash. The most dangerous time for teen drivers is between Memorial Day and Labor Day, according to the Florida Department of Transportation.
It is important for parents to teach their teens safe driving habits and not engage in reckless behaviors, such as texting while driving. Florida law does not offer special considerations if the driver involved in a crash is a teen. Parents can be held legally responsible for the negligent actions of their teen drivers.
Greater Risk of Tire Blowouts
The Florida summer heat can affect your tires. Hot weather can cause the air in your tires to expand, weakening the tire and resulting in a tire blowout. This happens quite often during heat waves when the temperature exceeds 90 or even 100 degrees for two or more days in a row.
That is why it is important for drivers to have their tires regularly checked before going on any road trips or during a heat wave. Poor vehicle maintenance can contribute to a crash. If a driver knew or should have known that his or her vehicle had maintenance issues that could lead to a crash, that driver could be held liable for any injuries or damages to others on the road.
High Temperatures Can Affect Your Engine
Aside from tire blowouts, the high summer temperatures can affect your vehicle's engine. An overheated engine can cause a vehicle to breakdown. If it gets too hot, a fire could break out. That is why it is important for drivers to check their engine coolant, hoses, and belts regularly.
More Motorcyclists on the Road
There are also more motorcyclists on city streets, roads and highways in the summer. No matter the time of year, motorcyclists are more exposed and vulnerable to serious injuries in a crash with other motor vehicles.
Many of these crashes happen when a driver does not see a motorcycle in his or her blind spot. However, drivers need to be cautious when motorcyclists are around, just as motorcyclists should avoid riding close to the front of a vehicle where they are not visible in the driver's side mirror.
Hot Weather Can Impact Your Driving
Hot weather can cause drivers to become tired and fatigued, especially if the air conditioning goes out on a road trip. Fatigued and drowsy drivers react more slowly to danger. They may be more likely to fall asleep at the wheel and take longer to slow down or stop.
The glaring sun can cause headaches and even temporary blindness, making it harder to see the road ahead and potential hazards. Additionally, hot weather can make driving uncomfortable. Some drivers can become irritable due to the heat, increasing the risk of aggressive driving and road rage.
The summer heat can be harmful to drivers and their passengers. A child or pet should never be left unattended in a vehicle, even for a short time.
Increase in Drunk Driving Accidents
There are also more drunk driving accidents in the summer. This is often because people drink alcohol when they get together for holidays, such as Memorial Day weekend, Fourth of July and Labor Day weekend.
Drunk driving accidents are often more likely to happen on the weekends and during holidays, which is why it is important to not drink and drive. If you have been drinking, get a ride home from someone or use a ridesharing service.
Reducing Crash Risks During Summertime Driving
Driving anywhere in South Florida in the summertime comes with certain inherent risks. However, there are ways to stay safe on the road and protect yourself:
Keep your vehicle properly maintained – Keep an eye on your tire pressure and treads, check your brakes often and make sure that your vehicle's cooling system has all the necessary fluids.
Always practice safe driving – Obey the rules of the road by being cautious and avoiding distractions, maintaining a safe following distance between your vehicle and those in front of you, and checking your blind spots for motorcyclists before making a lane change or merging.
Stay alert for reckless drivers – This includes inexperienced teen drivers, distracted drivers and drunk drivers. Watch out for drivers who are not watching out for you.
Pay attention to the weather – The summertime often brings heavy rain, high winds, tropical storms and potential hurricanes to South Florida. Make sure to stay off the roads when advised and when you do not think you can handle your vehicle safely.
Do not dismiss the heat – The glaring sun can affect drivers and their vehicles. Heat exhaustion can cause fatigue while an overheated vehicle could break down and leave you stranded on the side of the road.
You can more tips on safe driving from the Florida Department of Highway Safety and Motor Vehicles' (FLHSMV) Safe Summer Travel campaign.
Call Gordon & Partners for Legal Help
If you have been injured in a crash due to another's negligence, contact our experienced traffic accident attorneys in West Palm Beach for assistance. We have a proven track record, successfully recovering millions of dollars in compensation on behalf of our clients throughout South Florida.
Reach out to our firm to schedule a risk-free, zero-obligation consultation. We are available 24/7 to take your call. We also work on contingency, so there are no fees if we take or work on a case.
Call 1 (855) 722-2552 to get started today.