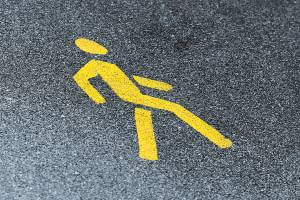 Car crashes involving pedestrians often lead to serious or disabling injuries and death. Although many pedestrian crashes take place throughout the year in Florida, car crash risks tend to increase during the summer months between June and August as more people are out and enjoying the warmer weather.
Our attorneys discuss several reasons for the increase in pedestrian crashes in the summertime and what drivers and pedestrians can do to stay safe while traveling on the road and walking around. If you have been injured in a crash as a pedestrian, we recommend consulting with an experienced attorney.
The initial consultation is free of charge and comes with no obligation to retain our services. If you have a valid claim and decide to move forward, we charge zero upfront fees. We only get paid if you do.
Reasons Pedestrian Crashes Increase During Summer
Some of the most common reasons for the increase in pedestrian crashes during the summer include:
More Foot Traffic
Due to the warmer weather in the summertime, more people are out and about on vacation from school and work. Florida also attracts plenty of tourists during the summer months. Many people are walking in the early morning or in the evening to avoid the hottest hours of the day. This means pedestrians are often outside in low light conditions that can make it difficult for drivers to see pedestrians when crossing the street. This includes other vulnerable road users such as bicyclists.
Inexperienced Teen Drivers
There are more teenagers enjoying the outdoors and getting behind the wheel while out of school for summer break. Unfortunately, many teen drivers lack the experience to know how to safely share the road with pedestrians. They may not be as familiar with Florida traffic laws compared to other drivers.
For instance, teenagers are more likely to drive while texting or engaging in other distracting behaviors that could increase the risk of hitting a pedestrian and causing serious harm.
More Out-of-Town Drivers
Summer is a time for families to hit the road and go on vacation. However, driving in busy and unfamiliar areas presents challenges. Out-of-town drivers often have no idea where they are headed or what road hazards may lie ahead. These drivers can be dangerous to pedestrians and other road users. For instance, an out-of-town driver may strike a pedestrian not knowing the pedestrian had the right of way.
Increased Road Construction
Many construction projects take place during the summertime on Florida roadways. Drivers who must navigate through a work zone may have to go around traffic cones and use narrow lanes. An unfamiliar detour can cause confusion and could increase the risk of a crash involving a pedestrian. With roads being torn up, sidewalks may also get blocked, causing pedestrians to walk closer to traffic.
More Alcohol-Related Events
There are many different holidays during the summer months. Memorial Day, Independence Day, and Labor Day are often celebrated with a barbecue, picnic or party. These events are also providing more opportunities for people to consume alcohol. When people make bad decisions and decide to drink and drive, they not only put themselves but also other road users like pedestrians at risk of being in a crash.
Avoiding Summertime Pedestrian Crashes in Florida
Drivers and pedestrians have certain responsibilities in preventing summertime pedestrian crashes since these types of crashes are often preventable and can be attributed to the negligent actions of another.
Safety Tips for Drivers
Drivers should remain alert and cautious for pedestrians by doing the following:
Scanning each side of the street for anyone on foot
Looking out for pedestrians before making a turn
Looking for anyone on foot behind you when backing up
Avoiding using your cellphone, GPS, etc. while driving
Giving pedestrians the right of way at intersections
Safety Tips for Pedestrians
Pedestrians should also remain alert and as visible as possible by taking these steps:
Crossing at designated crosswalks and not jaywalking
Looking both ways for other road users before crossing
Wearing bright or reflective clothing when walking at night
Avoiding walking anywhere while drunk or intoxicated
Refraining from distracting behaviors such as texting on foot
The Florida Department of Highway Safety and Motor Vehicles (FLHSMV) outlines additional safety tips for both drivers and pedestrians in order to share the road safety and avoid a pedestrian-related crash.
A Licensed Attorney at Our Firm is Here to Help. Call Today
If you or someone you care about has been injured in a pedestrian crash, Gordon & Partners is here to help. Schedule a free initial consultation to learn more about your rights and available legal options with a licensed traffic accident attorney in West Palm Beach. This meeting comes with no risk or obligation.
Our firm takes cases on a contingency fee basis, so there are no upfront fees involved. We do not charge any fees while we take on or work on a case. You only pay us if we help you obtain compensation.
Free Case Review 24/7. Ph: 1 (855) 722-2552