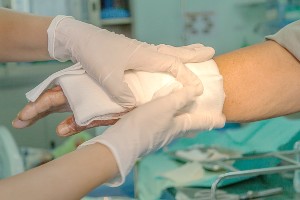 Traffic accidents cause many types of injuries, from minor bruising to severe or life-threatening damages, such as a spinal cord injury. Rarely, however, do people think about victims getting scarred in a car crash.
At Gordon and Partners, we have extensive experience advocating for victims with serious injuries and scars from car crashes and other accidents. Victims with scarring and disfigurement face a long road to recovery, and the treatment they need is not cheap.
If you suffered scars in a car crash due to the negligence of another driver, you may be eligible for compensation. We understand that no amount of money can change what has happened to you. However, it can help you to continue getting the medical treatment you need moving forward.
Call our law firm to learn more about your legal options and how we may be able to help. There are no upfront costs to pay.
What Type of Scars Result From a Car Crash?
This might sound like an odd question at first, but there are many types of scars. Some scars are minor and could fade over time. However, some scarring is extensive enough to leave a victim disfigured.
There are three types of scars that may result from a severe car crash injury, including:
Keloid Scars
These scars appear as clusters of dark, rounded, thick tissue. They initially grow at the wound site, but can also extend beyond the borders of the initial wound. Keloid scars may appear up to a year after the original trauma. There are treatments that help to minimize the appearance, but it is very common for keloids to reoccur.
Hypertrophic Scarring
After a trauma, these scars may appear reddish in color and also result in thick or raised skin tissue. However, hypertrophic scars may fade somewhat over time, and they also typically respond better to treatment than keloids do.
Contractures
This type of scarring is often the result of a burn or other traumatic injury. As the wound ages and the damaged skin heals, it thickens, tightens and becomes rigid. This type of scarring can be especially disfiguring and decrease function and mobility, especially when the contracture covers a joint.
How Are Car Crash Scars Treated?
There are a lot of medical treatments that may help to minimize the appearance of scars or improve functionality of an area affected by contractures. The type of treatment given depends on the type and severity of a scar.
Hypertrophic scars are often treated with steroid therapy, either via injections or as a topical application. Treatments may continue for up to two years after the initial trauma. This prescribed plan of care helps to reduce the risk of a hypertrophic scar returning. In more severe cases, surgery may be necessary.
Keloid scars are harder to address and may require many types of treatments, including:
Steroid injections
Pressure therapy
Silicone dioxide
Cryotherapy
Surgery
Laser therapy
Radiation
Contractures can cause significant disfigurement and decreased functionality. Treatment for this type of scarring may include skin grafting to replace damaged skin with healthy skin. Zplasty and tissue expansion are two other treatment methods used to help increase functionality of the damaged area.
What Compensation Could Car Crash Victims Seek for Scars?
The amount and type of compensation scar victims could receive after a car crash varies greatly. It depends the extent and severity of the scarring, where the scars are located and other factors.
It is costly to treat scars, especially when they require any type of plastic surgery. If the scars are permanent or disfiguring, some victims may be unable to return to their former career. For example, a model with severe facial scars or burns may be unable to continue working in that industry. A medical doctor who suffers severe burns or scars to his or her hands may no longer be able to perform surgery.
At a minimum, victims who are scarred or disfigured after a car crash may be able to recover compensation for:
Lost wages if you are unable to work while recovering
Loss of future earnings if you cannot work or cannot return to your former job
Other non-economic damages scar victims may be eligible to receive could include:
Loss of enjoyment
Depression
Embarrassment
Anxiety
Emotional distress
Lost sexual function or companionship
Permanent disfigurement
How Our Attorneys May Benefit Your Car Crash Claim
Scars from a car crash may often be hotly disputed, especially if they can be labeled as cosmetic. However, even if a scar is cosmetic, it does not minimize the pain and suffering you may feel.
Our qualified auto accident lawyers in West Palm Beach are knowledgeable and prepared to dispute any arguments the other side may present. We have the staff and resources to fight for the maximum possible compensation available on your behalf.
Call our Florida law offices today to learn more. We have staff available to take your call any time of the night or day. Your initial consultation is completely free, and there are no costs to you throughout the legal process. We only get paid if you do.
Experienced Lawyers. Proven Results. 1 (855) 722-2552