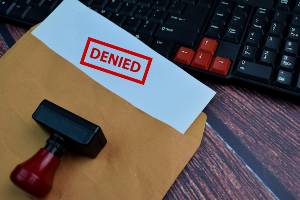 There are valid reasons for denying car crash claims, such as a lapsed insurance policy, driving without a license, or damages exceeding policy limits. However, sometimes these are not good reasons, the insurance company just wants the victim to think there reasoning makes sense. Insurers are hoping victims will not challenge the decision and stop seeking compensation.
That is why victims should strongly consider meeting with an experienced attorney to discuss the denial of their claim. The insurance company may not have a good reason for its decision, and you may still be eligible to seek compensation. Every situation is unique and insurance companies have been known to issue denials when victims have perfectly valid claims.
Below, our experienced West Palm Beach car crash attorneys discuss some of the most common reasons for a car insurance claim to be denied and when these reasons may be valid or invalid.
If your claim was denied or you have questions about your legal options following a crash, we are here to help. Our attorneys have obtained millions on behalf of our clients over more than 25 years and we are ready to take your call 24/7.
Potentially Valid Reasons for Denying a Claim
Car insurance companies are within their rights to deny a claim with a valid reason. Insurance companies are legally required to manage claims in good faith and denying a claim with no reason or with an invalid reason, is considered bad faith.
There are times when a denial is potentially valid, for example, you cannot recover compensation if you are not covered under the policy. For example, if you are specifically excluded from coverage, you cannot recover compensation from the policy in question. However, you may be able to recover compensation from another insurance policy.
Other potentially valid reasons for an insurance claim denial include:
Your policy lapsed because you did not pay the premium on time.
You did not have a valid license at the time of the crash, either because it expired or suspended
You failed to report the crash to the insurance company in a timely manner
You lied to the insurance company about the crash
You lied to the insurer when you applied for coverage
You were driving under the influence of drugs or alcohol and you were cited/arrested by the police
Victims should review their policy with a licensed attorney to see if it allows the insurance company to deny a claim for the reasons stated above. For example, if you had a valid license when you bought the policy and the policy does not specifically say claims can be denied because of an expired license, you may be able to appeal the denial.
Car insurance companies often have deadlines for reporting claims but sometimes they do not give specifics about why you were late in reporting the crash. Unless the policy sets a specific deadline that you missed, you may be able to challenge the denial.
When Insurance Companies Do Not Have a Good Reason to Deny a Claim
Sometimes insurance companies do not have a good reason for denying a claim. They may have a flimsy excuse they give the victim and even the victim may question it.
Preexisting Injuries
For example, insurance companies like to say victims are seeking compensation for a preexisting injury. They may base this on something the victim said after the crash – the victim may have made an offhand comment about an injury they are dealing with that was aggravated by the crash. Our experienced attorneys know how to challenge this type of denial with your medical records, and we can also consult medical expert witnesses for assistance.
Lack of an Injury
Insurance companies may even deny a claim saying you are not injured. They often do this with soft-tissue injuries, as insurers are biased against these injuries. If you did not break a bone, the insurance company may deny or devalue your claim.
Delayed Medical Treatment
Insurance companies will likely question why some crash victims waited to go the hospital or seek medical treatment. They may say you were not injured in the crash but by something that happened after the crash, otherwise you would have sought treatment right away. However, this is something that could be challenged, particularly if you work with an attorney.
It is important to note insurance companies may not give too many specifics about these reasons for denying a claim. They may just tell you were not injured in the crash, or you have a preexisting medical issue, or your injury is no big deal. They are hoping you will give up your pursuit of compensation.
Sometimes victims clearly have a significant injury, and their claim would appear perfectly legitimate to a reasonable person, but the insurance company denies it anyway. The insurance company may even stick to its story if the case makes it to court.
Challenging a denial is a big ask for a crash victim, as the legal process is complicated. That is why many victims, particularly those whose claims have been denied, seek legal assistance.
The insurance company may not have the last word on your claim. Review possible legal options with an attorney.
Contact Gordon & Partners to Discuss Your Claim
For decades, our firm has been assisting injury victims in their time of need and there are no upfront fees with our services. That means working with our firm to pursue compensation is risk-free. Our lawyers are not paid unless our clients receive money.
Have questions? Call today to schedule a free initial consultation with an experienced lawyer. We can discuss your situation and you can learn more about our services.
Give us a call today. Gordon & Partners: 1 (855) 722-2552.