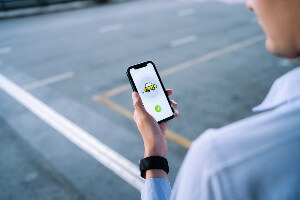 Peer-to-peer (P2P) car sharing is a service that enables people to book, access and use cars. If you live in an urban area, using this service can save a lot of money on insurance and car payments.
Although it has been around for a few years, it is still relatively new. Unlike more established ridesharing services, such as Lyft or Uber, there are some things you should know about before using one of these vehicles.
Below, Gordon & Partners discusses P2P car sharing, including the risks and how you may seek compensation after a crash.
If you have been injured by another driver's negligence, we are prepared to help you seek maximum compensation for medical costs and other damages. We have staff available to take your call now, or anytime, 24/7.
Request your FREE case review now.1 (855) 722-2552
What is Peer-to-Peer Car Sharing?
People may sometimes confuse peer-to-peer car sharing with ridesharing services, such as Lyft or Uber. However, car sharing services are quite different. With ridesharing, the driver uses their own car to pick up and transport customers to their destination. A customer who car-shares, however, selects and rents a vehicle from a private car owner through an online platform.
Car Sharing Offers Convenience and Choice
Drivers who use a car-sharing service can reserve a vehicle, pay for the rental and even unlock that vehicle, all using their phone. Car-sharing customers can also choose a specific make and model of the car they want to drive. Unlike a rental service, which only gives you the option to choose from what is on the lot. Additionally, since P2P companies, like Turo, charge by the hour, you only pay for the time you use the car. Car-share drivers can either collect the vehicle themselves or have it delivered to them.
Are There Risks to Using a Car-Share Service?
Risk might be a strong word. However, using a car-share service certainly makes an accident claim confusing for injured victims.
Car-Share Vehicle Owners
When you rent your car out for a fee, it is classified as commercial activity. Typically, your personal auto insurance policy will not cover you when you use your vehicle for business. In fact, if a customer is involved in a crash while driving your vehicle, your insurance carrier would likely deny your claim. In some cases, if you have not told them about using your vehicle for business, they may even cancel your personal policy.
Being up front with your insurance carrier and getting the commercial coverage you need is wise. It could prevent a lot of legal headaches and save you thousands of dollars or more if a crash occurs.
Car-Share Customers
If you car share and are involved in a crash, you may wonder how or if you can recover compensation for your damages. Florida is a no-fault state, but does your personal injury protection (PIP) apply in this case? Or do you file for PIP benefits under the vehicle owner's policy?
The answer may vary, depending on who is liable and what insurance is available. These claims can quickly become extremely complicated, which is why we strongly recommend seeking legal help right away.
Our attorneys have a thorough understanding of the laws and how they may apply in this situation. When we represent a client, we develop strategies to help to protect their interests. We also work hard to recover the maximum possible compensation.
What About Car Insurance Protection?
There are multiple P2P car-sharing companies to choose from today. Each one has different policies about insurance protection.
For instance, if you book a car through Turo, one of the most popular car-sharing companies today, coverage is not automatic. You can choose from one of three insurance plans or decline coverage all together.
If you opt for insurance, each plan offers a different level of coverage, which could include:
Bodily injury and property damage to third parties (cannot be declined by renter)
Personal injury protection (coverage varies by state) for medical costs, lost wages and more
Uninsured/underinsured coverage (requirements vary by state)
And more
Regardless of whether you are the host or renter, you should research what insurance covers you in case a crash occurs. Guest renters should be sure they understand what coverage options are available and when they apply.
If you host a car, you should also ensure you have sufficient coverage to protect your financial assets should a guest renter crash your vehicle.
Can I Seek Compensation After a P2P Car-Sharing Crash?
Much like any other traffic accident, there will be an investigation to determine what happened and who is responsible. Depending on the outcome, one or more parties may be liable for the damages, including:
The other driver: If the other driver involved caused the crash, then the injured victim would seek compensation against that driver's liability insurance.
Vehicle owner is liable: A vehicle owner could be held liable if they failed to properly maintain their vehicle and that failure contributed to the crash. For instance, if the owner did not properly maintain his or her tires and a tire blowout resulted in a crash.
Car-share company: Unless the company is responsible for the vehicle's maintenance, it is unlikely they will share any liability for the crash.
If you are car sharing and share some liability for the crash, you may still have a claim. Since Florida follows a pure comparative negligence system, you could recover compensation even if you are 90 percent liable for a crash. However, it is important to remember that your percentage of fault will be deducted from any compensation you are awarded. There are also other factors that an attorney will need to understand about your crash before determining if you have a valid case.
What is Florida's Dangerous Instrumentality Doctrine in a P2P Claim?
Under Florida's Dangerous Instrumentality Doctrine, the owner of an inherently hazardous tool is liable for any damages caused by using that tool. In car sharing, the hazardous tool is the vehicle.
Under this law, which is also known as vicarious liability, vehicle owners, or their insurance carrier, may be liable for damage someone else causes while driving their vehicle.
However, a new statute took effect in Florida on January 1, 2022, which changes things quite a bit.
New Florida Statute – Chapter 627 Section 7483
The new Florida statute helps to protect vehicle owners and peer-to-peer car-sharing companies from liability that would be based solely on vehicle ownership. This is a significant departure from Florida's Dangerous Instrumentality Doctrine law.
In 2005, the Graves Amendment, a federal law, went into effect to protect rental car companies from vicarious liability. Florida's new statute does the same for P2P car-sharing companies and vehicle owners. In short, they are not vicariously liable for the negligent actions of their customers if they are:
Engaged in the business of renting or leasing one or more motor vehicles for financial gain
Not negligent in the care of the vehicle being rented
Not engaged in any criminal activity
Injured While Car Sharing? Contact Our Law Firm for Help
P2P car-sharing crashes often result in complicated injury claims. Crash victims in this situation may be confused about where they can seek compensation for their damages. Having an attorney manage their case can make all the difference. Often victims recover significantly more compensation when they have legal representation.
Our licensed auto accident attorneys in West Palm Beach are deeply committed to helping injured victims. We have a history of proven results, recovering hundreds of millions for our clients.
Contact Gordon & Partners today to request your completely free case review. We can learn more about your situation and discuss any possible recovery options. We welcome the opportunity to help.
Proven Results. 1 (855) 722-2552