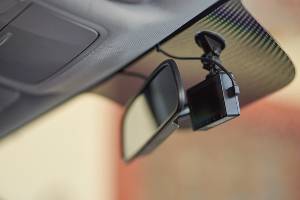 If you have been in a crash where liability is being disputed, it is important to put together a strong case. This will likely require a more thorough investigation and additional evidence to help prove who caused the accident. Dash cam footage, for instance, may have captured the accident and what happened.
Our licensed vehicle accident attorneys further discuss how dash cam footage can help with liability disputes after a crash. We are ready to review your situation and determine your eligibility for compensation during a risk-free consultation. You are under no obligation to hire our firm.
Most Common Types of Dash Cams
Dash cams are small video cameras that can be mounted to a vehicle's windshield or dashboard. Many cameras capture what is happening in front of the vehicle and start recording once a vehicle is in gear.
Most dash cams include features such as loop recording, night vision and GPS. More advanced models can record interior video and audio, provide rear-facing audio and livestream to the internet.
The most common types of dash cams are:
Traditional dash cams – This dash cam is primarily built for use in cars, trucks and SUVs. It is often mounted to the upper part of the front windshield. Traditional dash cams only record what occurs in front of a vehicle while driving. However, some of these dash cams can record while in parking mode and record any activity that happens while the vehicle is unoccupied.
Dual camera dash cams – A dual camera dash cam can record activity that occurs inside and outside of the vehicle at the same time, providing forward and rear vision. These dash cams can often swivel and provide a full 360-degree view around a vehicle at all times.
Rearview mirror dash cams – This dash cam comes in the shape of a rearview mirror and goes over the existing mirror in the vehicle. Rearview mirror dash cams are mostly used in cars and SUVs because they do not restrict a driver's forward vision or cause unnecessary distractions.
Many people are installing dash cams in their vehicles to protect their legal rights in the event of a crash. A dash cam may provide the supportive evidence needed in a lawsuit or an insurance claim dispute.
Are Dash Cams Legal or Illegal in Florida?
Dash cams are entirely legal in Florida. However, there are certain laws related to dash cams to know about. These include the state's Windshield Obstruction Law and Electronic Audio Surveillance Law.
Florida Statute 316.2004 states that a driver cannot use his or her vehicle if his or her view is obstructed. If a dash cam is installed, it cannot impact a driver's ability to see his or her surroundings. You must be able to drive and safely operate your vehicle. Otherwise, you would be in violation of the law.
Florida Statute 934.03 also states that a driver cannot knowingly record the audio or voice of another person without his or her consent. This is known as the two-party consent rule, and it applies to dash cams with the ability to record audio.
However, if the audio recording takes place in a public setting, it is considered legal if you inform others that they are being recorded. For instance, say you are in a crash and the other driver approaches your vehicle. If you let the other driver know that he or she was being recorded while the driver admitted fault or became hostile, you may be able to use that recording to support your case.
How Can Dash Cam Footage Be Used?
Dash cam footage can be used as evidence to show that the other driver, and not you, were at fault for the crash. A dash cam can help provide a visual account of what happened right before the accident.
This can be especially useful in cases where there were no witnesses or witnesses who may not have seen important details or contributing factors, as well as when the other driver denies responsibility.
If you suffered serious injuries and are deciding to file a lawsuit, you must prove that negligence played a role in the accident. Dash cam footage may provide irrefutable evidence that the other driver:
Ran the red light or rolled through a stop sign
Was speeding and otherwise acting recklessly
Failed to signal before turning or yielding the right of way
Suddenly slammed on the brakes for no reason
Depending on the type of dash cam, it may not have recorded the entire accident because it happened outside the view of the camera. This may happen if you were rear-ended or T-boned.
Are Dash Cams Admissible in Court?
Since installing a dash cam is legal, the courts generally consider footage from a dash cam to be admissible as evidence. Florida law does require the use of dash cams to meet the two conditions:
The footage must show convincing and clear evidence related to the facts of the case
The footage must be authentic and the person admitting it as evidence must swear under oath of its authenticity
Can Dash Cam Footage Hurt My Case?
Insurance companies will do anything to dispute liability on behalf of their policyholder. The at-fault driver's insurer may try to argue that your dash cam footage has been altered and edited in a way that supports your case. Any footage recorded may be questioned if it was placed incorrectly in a vehicle.
If the crash happened in an area not captured by your dash cam, the insurance company may try to argue that you caused or was at least partially to blame. This is why it is important to have an attorney by your side, especially if the at-fault driver has already lied to the insurance company.
Consult an Experienced Attorney Today
Our experienced attorneys at Gordon & Partners are ready to help you gather the evidence needed to build a strong case for compensation. We have obtained millions of dollars for our clients.
Contact us today to schedule a free initial consultation with no obligation involved. If you have a case, there are zero upfront fees. We only get paid for our services if we help you obtain a recovery.
Available 24/7 to take your call. Ph: 1 (855) 722-2552.