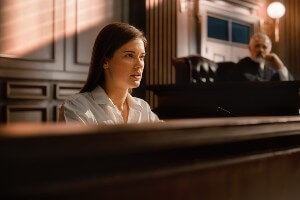 If your car accident case ends up in court, you may need witnesses to testify about what happened. If your witnesses are credible, their testimony could help to strengthen your claim.
However, what if a witness says they do not want to go to court? Can witnesses refuse to testify? What are your legal options if this happens?
Gordon & Partners explain more about witnesses in a car accident case and what legal options you may have if a witness refuses to testify.
If you suffered harm due to the negligent actions of another driver, you may be eligible to seek significant compensation. Our firm has a record of proven results, and we are ready to pursue maximum compensation for you.
Contact our law offices today and request your FREE case review. We are prepared to listen to your concerns, answer your questions and discuss your legal options. There are no upfront costs to pay if you choose to hire our firm.
When Do You Need a Witness for a Car Accident Case?
Witnesses can greatly benefit a car accident case under many circumstances. Both the insurance company and the jury give considerable weight to what they say since they are considered a neutral third party with no personal interest in the outcome.
That said, after some collisions, it is not always necessary to get a witness statement. This is especially true if a car crash case is more straightforward or has solid evidence, such as video footage from a traffic camera.
There are several situations where the testimony of a credible witness could provide additional insight and strengthen your case, such as:
When there are gaps in details leading up to the crash: Sometimes, one or both drivers may either purposely leave out details or not recall them. For instance, if a driver suffered a head injury and has short-term memory loss.
To help clarify who was at fault: Often, witnesses may have been standing in a place where they were better able to see events leading up to a crash. For instance, they may have seen a driver staring at their phone before they rear-ended another vehicle.
Providing non-biased testimony: A strong witness statement can be very useful in a car accident case. If the other driver's version of what happened is vastly different from yours, their testimony on your behalf could strengthen your claim.
How Do You Get a Witness for Your Car Accident Case?
If there were witnesses to your accident, then it is likely the responding police officer got their contact details. We always recommend that crash victims also attempt to get contact details of witnesses at the scene. However, depending on how badly a crash victim is injured, it may not always be possible.
How Witnesses May Be Contacted
Your attorney, if you hire one to manage your case, may contact any witnesses from your crash. Before witnesses are asked to give testimony, however, your attorney will first want to thoroughly vet them to be sure they are credible.
Having a witness with a history of DUIs, for instance, is not likely to work in your favor. Someone with poor vision or who has a history of being untruthful is also probably not the best choice for a witness. Even if a less credible witness did see what happened, you can be sure the defendant's attorney will try to find ways to cast doubt on their testimony.
That said, once your attorney has determined that one or more witnesses are credible, he or she will ask them to provide testimony for your case.
What if a Witness Refuses to Testify for My Car Accident Case?
It is always better to have a witness who is willing to testify for a case. However, there are times that a witness may refuse to do this. In many cases, it is because the witness is fearful or uncomfortable with the thought of speaking out in court. Sometimes, an attorney may be able to reassure a witness and persuade him or her to voluntarily provide testimony.
However, if one or more witnesses adamantly refuse to testify for your car accident case, there is another legal option. Your attorney could obtain a subpoena to legally request a witness to testify.
If a witness is issued a subpoena and fails to show up, he or she may be held in contempt of court. The outcome of being held in contempt is typically just a fine. However, rarely, a court may decide to give a jail sentence. Additionally, the witness could be given an "order to produce" his or her testimony.
Is There a Way for a Witness to Avoid a Subpoena?
Yes. Here are a few of the legal ways witnesses can avoid dealing with or responding to a subpoena.
A Witness Could Avoid Being Served the Subpoena
People expecting legal trouble, such as someone who knows they are being sued, may go to great pains to avoid being served. However, a witness may not be expecting a subpoena. One advantage of hiring process servers is that they are professionals. They are used to people trying to avoid them so they employ more creative methods to ensure a delivery is successful.
A Witness May Claim an Undue Burden
Similar to when you get called for jury duty, if a witness can prove an undue burden exists, then he or she may not be required to comply to the subpoena.
Claiming Reasonable Place if the Witness is Far Away From the Court
A subpoena cannot require witnesses to travel further than 100 miles from their home or business.
The Witness May Claim No Reasonable Time Was Provided
The issued subpoena must provide the witness a reasonable time to appear.
Need Help Seeking Compensation After a Car Crash? Call Our Firm Today
Gordon & Partners has been helping injury victims for decades. We have a solid team of experienced car accident lawyers in West Palm Beach and throughout Florida. Despite our size, however, we never treat our clients like a number.
We work hard to protect the best interests of our clients while seeking the maximum possible compensation for their damages.
Ask for your free case review today to learn more. There are zero upfront costs, so there is no risk to you.
Millions recovered for our clients. 1 (855) 722-2552