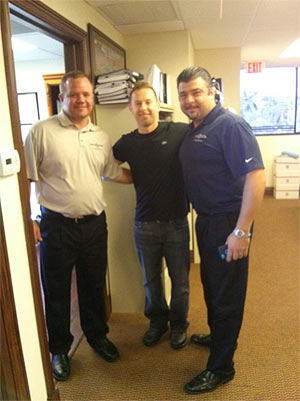 Michael Saint Paul, Jimmy Herron and Scott Fischer of Gordon & Partners will be participating in a 3-on-3 charity basketball tournament at Palm Beach Atlantic University on Nov. 9.
The Hoops4Heroes tournament has been organized for the benefit of the Wounded Warrior Project. Gordon & Partners was challenged by Craig Goldenfarb and his team in early October. Gordon & Partners quickly put together a team and accepted the challenge.
The goal of Hoops4Heroes is to honor and commemorate wounded combat veterans who are returning from their final tour overseas. The Wounded Warrior Project (WWP) offers a variety of programs across the country to help veterans overcome their physical and mental wounds. As of Sept. 1, WWP has served more than 56,000 men and women and helped 8,000 families in need.
The event will be hosted at Palm Beach Atlantic University located at 901 S Flagler Drive in downtown West Palm Beach. Tip-off is at 9 a.m. with the final game beginning at 3p.m. Emerson Lotzia of ESPN West Palm 1063 will be the master of ceremonies for the event.
The event is free to attend and we encourage all veterans, active service members and families of veterans and service members to come out and support this great cause.
If you're unable to attend the event, click here to make a donation online for Team Gordon & Partners.