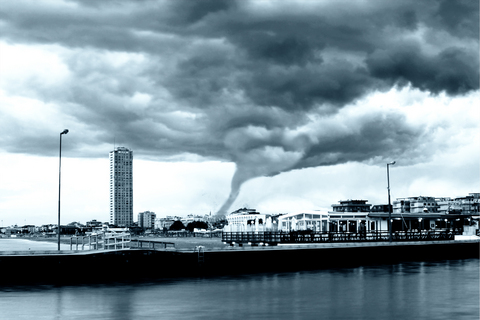 Although hurricane Season is underway, do you think you have you grown complacent? Floridians have become comfortable with the relatively mild hurricane seasons we have experienced since 2005's Hurricane Wilma made her way across south and central Florida.
With global warming and climate change causing weather patterns to be completely unpredictable, it's easy to believe there's little to no risk of suffering from a natural disaster – but with Florida's susceptibility to not only tropical storms and hurricanes, but tornados, wildfires and floods as well, there's no good excuse to skip the steps to get your home and family ready.
These 10 natural disaster preparedness myths are all common pitfalls for Floridians.
Need a place to start? Begin by collecting these hurricane supplies!
10 Myths about Preparing for Natural Disasters
"I've been through a natural disaster, so I'm already prepared."
Every natural disaster is different, and just because you have survived one doesn't mean you're prepared for them all. Conditions can change in any situation, and destruction is unpredictable. In a state where it can rain on one side of the street while the sun shines on the other, it would be foolish to expect consistency from Mother Nature.
Despite how non-threatening circumstances may seem, there is no way of predicting the damage a weather event can cause. Although Hurricane Katrina was a mere Category 3, it became the third-deadliest in U.S. history. It only takes one powerful gust of wind to cause immense damage; the devastation seen this tornado season should serve as a reminder.
Natural disasters are unpredictable and impartial. Nobody is free from risk, and nobody should underestimate the power of nature.
"I don't live anywhere near the coast, I'll be fine."
Tornados can touch down anywhere – especially in inland areas, and hurricanes have been known to skip from the Gulf to the Atlantic and back, spreading across hundreds of miles. Especially here in Florida, having miles between your home and the shore does not guarantee your safety.
"Getting ready doesn't guarantee my safety. Why bother?"
Reducing risk and lessening damage – is there really a question? There's no guarantee you will survive a car accident when you get behind the wheel, but most realize that wearing a seat belt and having an airbag equipped could be the difference between life and death. Even though there are no guarantees, protecting your home could be the difference between a cracked window and irreversible water damage.
"The government will save us."
If your local government issues an evacuation order and you ignore it, don't count on rescue crews. If conditions become too dangerous for emergency workers to risk their lives, you could be left stranded. You should be prepared to be self-sustaining for at least 72 hours if you choose to stay in an optional evacuation. When in doubt, remember your family won't be the only one struggling in the aftermath. The government might not reimburse you for property damage also, so it's your responsibility to "hold down the fort".
"It's not even hurricane season."
Tropical storms don't keep a calendar. There have been 23 years during which a tropical storm or hurricane formed before or after "official" hurricane season on record (since 1851). With changes in climate yet to come that we cannot predict, this phenomenon could become a regular reality.
"There's nothing I can do if a disaster strikes."
Although it's not possible to completely eliminate risk, there are several small, easy and affordable steps you can take to prepare your home and family for natural disaster that could mean the difference between little to no damage and losing your home.
"Reinforcing my house is too expensive and not worth it."
Although reinforcing your home can become expensive, the cost will never add up to the amount of damage that can be sustained if your home is in the path of a natural disaster. Your home is an investment – the most valuable for most individuals – and a few thousand dollars is reasonable to protect your dwelling. Plus, the improvements could lead to discounts on insurance premiums!
"My mobile home is tied down and is a good place to take shelter."
When is a good time to weather a storm in a mobile home? NEVER. The National Hurricane Center says that no manufactured home can withstand hurricane-force winds. You should tie-down your mobile home to prevent it from being carried away in a tornado or tropical storm, but make alternate plans for shelter if a storm is predicted.
If you were a believer of one of these 10 myths about preparing for natural disasters, we hope you've given you a reason to reconsider. Don't neglect to protect your home and your family – get ready for a natural disaster before it strikes.
Stay safe this season!