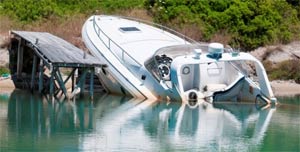 With Labor Day weekend approaching, many Floridians are looking forward to heading out to the open seas for some fun in the sun. Unfortunately, this time of year is one of the most dangerous for Florida boaters.
In 2012, the majority of boating accidents were reported in the summer months; accidents typically decreased in October. Alcohol is a common cause of boating accidents, as is operator inexperience, excessive speed and inattention. The following are five of the most common rumors about boating and alcohol.
Drinking and boating is not as dangerous as drinking and driving a car
Operating a boat with a blood alcohol content (BAC) of .08 is against the law, just as it would be if you were operating a motor vehicle on land. Alcohol is responsible for 16 percent of boating fatalities and is the leading contributing factor in recreational boating deaths.
Penalties for drinking and boating are lenient
It can seem as though you rarely hear about anyone being arrested for boating under the influence. However, operators who are BUI risk incurring severe penalties including having their boat impounded, loss of boating privileges and possibly going to jail.
If you're a good swimmer, youll be fine in the water even after a few drinks
As alcohol distorts your perception of risks and your own abilities, you could be putting yourself in danger when you decide to swim after drinking. Currents are unpredictable and you're more likely to engage in dangerous behaviors such as swimming near the propeller or jumping off a moving boat after you've been drinking. In 76 percent of reported boating accident, the boat operator and occupants could swim, yet nearly 400 people were injured during collisions.
BUI only includes alcohol
Boating under the influence includes all alcohol and drugs, exactly as it does on land when driving a motor vehicle.
Alcohol doesn't affect me like it does everyone else
Its easy for someone to think that they have built up a tolerance to alcohol or that they have boated under the influence before without accident or injury. However, alcohol can affect your cognitive abilities, physical performance, vision and equilibrium. A boat operator with a BAC above .10 is 10 times more likely to die in a boating accident than a sober boat operator.
If you or someone love has been injured in a boating accident caused by a careless boat operator, the victim may be entitled to compensation for their injuries. The boating accident lawyers at Gordon & Partners can help you determine what your legal rights are.
To schedule a free legal consultation, call a West Palm Beach personal injury attorney at our firm at 1 (855) 722-2552 or fill out the Free Case Evaluation form to get started.