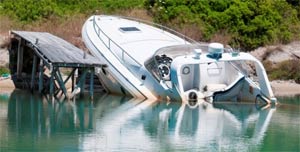 On July 4, a serious boating accident made headlines in South Florida after four people died and three others were critically injured. Since then safe boating efforts have been underway in South Florida.
The accident happened around 10:30 p.m. off Coconut Groves Dinner Key. At the time, a 32-foot Contender broadsided a 36-foot Carrera and then struck a Boston Whaler. The Florida Fish & Wildlife Conservation Commission said alcohol was found aboard, but no charges have been filed.
An expose into boating accidents and boating under the influence by New Times Broward-Palm Beach has shed more light on these types of incidents. Florida has nearly 900,000 registered boats in the area and is one of the most popular places for boating, it is also one of the deadliest.
In 2013, 62 people died in boating accidents, which is the highest in the nation. In the past five years, more than 300 people have died in a Florida boating accident the highest fatality rate among larger states. In 2012 Florida reported nearly double the amount of boating accidents as California, the state with the second highest number of accidents.
Nearly two-thirds of the operators involved in Florida fatalities last year had no formal marine safety training. There is no legal minimum age requirement to operate a boat in Florida and anyone born before 1988 is not required to take a course to legally pilot almost any recreational water craft.
The biggest concern, however, that regulations on boating under the influence are rather lax. In 2011, approximately 237 citations for BUI were given out by the Florida Fish and Wildlife Conservation Commission. According to the FWC, about 15 percent of boating fatalities in 2013 involved alcohol or drug use.
The expose by the New Times paints a different picture though, various incidents involving alcohol have been captured on video yet the number of BUIs has remained low. In 2007, a man died after he was flung off of a boat when the boat driver was performing a stunt. The driver was charged with a misdemeanor despite investigators finding evidence of alcohol consumption on board.
Just before the 4th of July incident, Key Biscayne residents discussed the growing problem of dangerous boating activities at the Nixon sandbar. The director of the Key Biscayne Community Foundation shared a video showing the clear use of alcohol by those who were boating in the area.
Residents in the area are calling for change, including night-time speed limits, idle-only zones, mandatory licensing and especially harsher penalties for boating under the influence.
If you or someone you love has been injured in a boating accident, contact a West Palm Beach injury lawyer at Gordon & Partners at 1 (855) 722-2552.