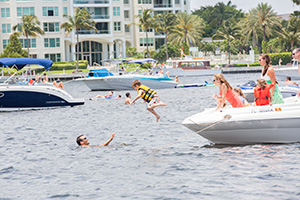 Are you heading out to the water for a little fun in the sun this spring break? With kids and families flocking to the beach in troves to kick back and relax its also important to come prepared and protected.
Boating Accidents: Steer Clear of Danger
Did you know Florida has more boaters than any other state? With nearly one million registered boats in Florida, it is clear that having a boat is as normal as having a car for some Floridians. And that means while accidents are inevitable, but many are preventable.
According to the U.S. Coast Guard alcohol plays a leading contributing factor in fatal boating accidents.
Other contributing factors:
Boating driver distraction
Improper lookout
Operator inexperience
Excessive speed
Machinery failure
Coast Guard: Kids Should Not Wear Adult Life Jackets
Remember, you should always wear a life jacket on any type of boat or personal watercraft. Coast Guard officials say its critical that children do not wear adult life jackets and that they are properly fitted for a jacket their size.
To test if the life jacket is the right size, it must fit snugly and not allow the childs chin or ears to slip through.
Other boating safety tips:
Keep a safe distance. Dont get too close to other boats, swimmers or marine life.
Stay in touch. Let someone know where you are going and how long you will be gone.
Operate personal watercraft responsibly.
New Parasailing Laws in Effect
Another exciting activity that can get spring breakers in trouble if they are negligent and reckless: parasailing.
However, there is a new law in effect known as the White-Miskell Act.Under the new law, it is mandatory for commercial parasail operators to log weather conditions before taking excursions and forbids operations during severe weather conditions.
The law is named after a 28-year old Connecticut woman, Kathleen Miskell, who died after falling from her harness over Pompano Beach in August 2012.
If you or someone love has been injured in a boating accident caused by a careless boat operator, the victim may be entitled to compensation for their pain and suffering. You may like to consider starting to look for a personal injury attorney in FL to help review your available options.
The boating accident lawyers at Gordon & Partners can help you determine what your legal rights are.
Call 1 (855) 722-2552 or use the Free Case Evaluation form today.