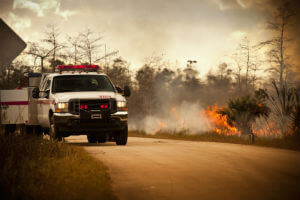 Florida is in the midst of the deadliest fire season the state has seen in years. So far this year, more than 150,000 acres have burned from more than 2,000 different fires. A state of emergency has been declared by Governor Rick Scott.
Florida residents fear this year's wildfire season could become worse than in 1998, when more than a half million acres and 50 homes were destroyed in one night. Currently, approximately 125 active fires are burning throughout the state, per the Florida Forest Service.
May is typically one of Florida's driest months, and given the lack of precipitation and warmer temperatures to come, wildfire conditions may worsen.
Our South Florida insurance lawyers recommend you follow these tips to help protect your home before and after a fire.
Preparing & Protecting Your Home from Wildfires
With such an active wildfire season, it is important that all home owners take precautions to protect their home. The Florida Forest Service recommends taking these steps:
Create a thirty-foot defensible space surrounding your home, which will work to keep fires away from the structure. The three feet surrounding your home should be absent of any plants that are tall or that could easily catch fire. Use fire-resistant ground coverings surrounding the home, such as rocks and chunky bark mulch. No plants should be directly under windows or vents connected to the inside of the home.
Eliminate fuel sources from your property and neighborhood. Mowing tall grasses reduces the volume of fuel available to burn. Prescribed fires may be used to clear areas of built-up vegetation.
Thin out trees and shrubbery on your property – leave 10 to 15 feet of space between tree crowns and prune limbs so there are none within six to 10 feet of the ground.
Upgrade the exterior materials on your home to fire-resistant materials such as fiberglass or asphalt Class A shingles, sheet metal shingles, terra cotta roofing tiles, non-combustible soffits, and double-paned or tempered glass windows.
Keep your roof and gutters free from all leaves, sticks and debris.
Wildfire Damage Insurance Claims
Most Florida homeowners carry fire insurance, which is typically offered in basic home insurance policies throughout the state, called Named Perils policies.
However, it is important that you verify with your insurer that wildfires are covered by your policy. Insurers may exclude wildfire protection from traditional policies, especially in areas prone to wildfires like Florida.
If your home sustains fire damage, you should contact your insurer immediately. Because insurance companies will try to pay as little as possible for your claim, they will be looking for any opportunity to dispute the extent of the damage. They may also try to claim that your damage was not caused by wildfire, but by arson or another source that is not covered by your policy.
To protect yourself and support your claim, you should:
Take photos and videos of all damage
Keep any receipts for repair work or replacement of damaged items
Insist that all communication with your insurer be conducted through written communication
Your insurer may also require that you mitigate any damage to your property to prevent any further damage. If further damage occurs that could have been prevented, your claim will be denied.
If your claim is denied, the insurer must supply you with a notice of denial that details why coverage is being denied as well as the policy provisions backing up its denial.
Should I Hire an Attorney to Assist with My Wildfire Damage Claim?
Because Florida fire damage claims are frequently denied by insurers, it is smart to work with an experienced attorney when filing your claim.
Our skilled South Florida fire damage claim attorneys have extensive experience working with insurers and understand the methods they use to avoid paying policyholders.
Before filing your fire damage claim, review all information with your attorney. We will file your claim for you and will handle all communication with the insurer regarding your fire damage claim.
If your home sustains damage during this year's wildfire season, contact the fire damage claim lawyers at Gordon & Partners immediately. We will work to help ensure your insurer covers your claim and issues maximized compensation for the damages you have incurred.
Call 1 (855) 722-2552 or complete our Free Case Evaluation form today.