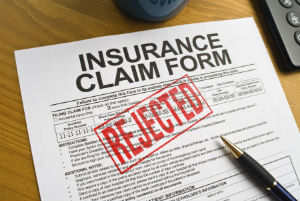 Dealing with an insurance company after an accident can be frustrating. The often complex process can make it seem like there is no one on your side and like your claim will never be approved.
In some situations, in which an insurance company is acting in bad faith, this is true. Actions that incorrectly deny or delay a legitimate claim can be considered bad faith, a practice that is illegal.
All insurance contracts require investigations, negotiations and settlements that are conducted in good faith, which means all parties must treat each other with honesty and within the terms of the contract. When an insurer violates these terms, it can be held liable for the harm its actions have caused.
Below are several actions that can be considered bad faith. If you have experienced any of these, you should contact our insurance lawyers to learn more about your legal options.
Claim Denial Without Cause
When denying a car accident claim, an insurer should provide the reason for the denial. If your valid claim was denied without reason or if an invalid reason was given for the denial, you may have a claim for bad faith insurance.
Not Investigating Properly
Insurers must conduct complete, timely investigations of all claims they receive. Should your insurer fail to investigate your claim, delay the investigation or fail to perform a thorough investigation, this may be grounds for a bad faith insurance claim.
A Valid Claim's Payment is Delayed or Refused
Settlements must be paid within an appropriate timeframe. If your claim has been approved but the insurer has delayed payment unreasonably, bad faith may apply. Refusing to pay a valid claim may also be considered bad faith.
Low-Ball Settlements
Should an insurer offer you an unreasonably low settlement given the circumstances of your claim and refuse to negotiate further, you may have a valid bad faith claim.
Making Threats and Misusing Policy Language or Laws
No one acting on behalf of the insurer should ever make a threat against you or use threatening language. Insurers have a duty to represent the laws and policy language properly – lying about involved policies and applicable laws are signs of bad faith insurance.
If you are being treated unfairly by an insurer following an accident, it may be in your best interest to hire an attorney. The insurance attorneys at Gordon & Partners are skilled in insurance negotiations and will fight against bad faith insurance tactics to recover the maximized compensation you deserve.
Call 1 (855) 722-2552 or complete our Free Case Evaluation form today.