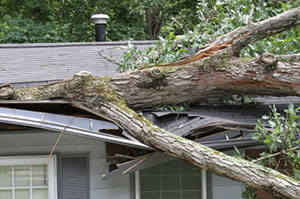 Hurricane Matthew has left devastation across several states, causing billions of dollars in property damage. If you have suffered property damage from the recent storm, these tips will help you file a successful insurance claim.
Protect Damaged Property
If your home or other property was damaged by Hurricane Matthew, you need to take measures to protect against further damage. Cover any damage with tarps or other protective material.
Should your property incur further damage, your insurer could use it against you and dispute or deny your storm damage claim by arguing that the damage was your fault.
Document Your Property and Belongings
Photograph your home and its contents to create an inventory of the damage. Document damage to the dwelling by taking photos of all sides and the roof if possible. Photograph wide angles of each room, and also take close ups to show detail of individual items. The photos will serve as proof of the property that was damaged so you can accurately state your losses.
File an Insurance Claim Now
It is important that you file a claim with your insurer right away after Hurricane Matthew. Not only may your policy require it, but it can also help in resolving your claim faster.
Having Trouble?
If you experience any trouble when dealing with your insurance provider over your storm damage claim, you should hire an insurance attorney to represent you. Your attorney will look out for your best interests, working to dispute denials and other trouble caused by an insurer, such as:
Denial of claim due to coverage exclusions
Undervaluing your losses
Delay of processing or paying your claim
If your property has been damaged by Hurricane Matthew, don't let your insurer keep you from accessing the funds you deserve. The Stuart insurance claims attorneys at Gordon & Partners will work to resolve your claim quickly while recovering maximized compensation for the damages you have suffered.
Call 1 (855) 722-2552 or complete our Free Case Evaluation form today.