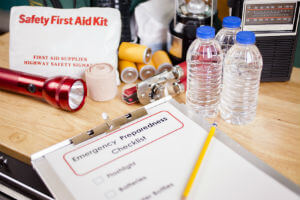 Hurricanes can have a devastating impact, often leaving behind a trail of destruction in their wake. However, preparing ahead can dramatically reduce a storm's impact on your family and your home.
All homeowners in South Florida are encouraged to take the following steps to prepare their homes, families and communities.
1. Know Your Risk
The first step in any hurricane preparedness process should be to determine your area's hazard risk. Find out what types of wind and water hazards could affect your home and then immediately begin preparing to handle them.
The Federal Emergency Management Administration (FEMA) flood map service is the official public source for flood hazard information.
Although much of South Florida is along the coast and included in varying levels of flood zones, it is important to remember that hurricanes are not just a problem for coastal communities. Hurricane Andrew is a stark reminder of the devastation that a hurricane can bring to inland communities.
A study from the National Oceanic and Atmospheric Administration showed that most of the damage from Hurricane Andrew was inland, away from the primary storm surge areas.
Similarly, Hurricane Matthew caused devastating flooding in the Carolinas last year even though the hurricane's eye remained offshore.
Although many in South Florida will never forget the devastation of Hurricane Andrew, because the U.S. has not been hit directly by a major named storm in more than a decade, many have become complacent in their preparations for hurricanes, forgetting, or simply not knowing, how bad a hurricane truly can be.
For this reason, you should prepare now for this streak to end.
2. Check Your Disaster Kit
Hurricanes can leave you without power and water for days or weeks after the storm has passed. Because of this, you should have a disaster kit with enough materials for your family to survive for at least a week.
Now is the time to check your kit to ensure it is still fully stocked and ready to go in case you are stranded in your home after a storm.
Your disaster kit should include:
Extra batteries
Non-perishable food
Water
Medication
Battery-powered radio
Flashlights
Extra cash
Portable or crank-powered charger
3. Take Photos of Everything
Before a storm, take comprehensive photos of everything. This should include:
Varying angles of the exterior of your home and roof
Close-up photos of the exterior of your home
Your yard, shed and other items on your property
Your vehicles and boats
Outdoor furniture
Varying angles of every room in your home, including the flooring and ceiling
Detailed shots of furniture and all items in your home
The more detailed photos you have, the better proof you will have of the condition of your home and belongings if you have to file an insurance claim. If an insurance company attempts to undervalue your claim, your photos can serve as evidence of the true value of your items and your claim.
4. Prepare Your Home
Preparing your home ahead of time can save you thousands of dollars in repairs.
In Florida, many who live in high-risk areas are required to meet local hurricane building code specifications and have specific hurricane protections on their home, such as shutters or impact-resistant windows. Many insurance companies even provide discounts for those who take these extra steps to protect their home.
If you will need to purchase supplies to ready your home for a storm, do so now so you do not have to wait in long lines in the days before a storm. The most-needed items will sell out quickly.
There are also several other steps you can take to prepare your home for a hurricane, some of which will only take a couple of hours.
5. Have an Evacuation Plan
Every family should have an evacuation plan in the event of an oncoming storm.
The first step in creating an evacuation plan is to determine if you live in a storm surge hurricane evacuation zone or if you are in a home that cannot withstand the winds of a hurricane, such as a mobile home.
If either of these situations apply to you, you should identify where you could go and how you would get there if you are forced to evacuate. It is not necessary to travel a far distance, but you should identify a family member or friend who lives in a safe home that is not in an evacuation zone.
When creating your plan, do not forget about your pets. Make sure you can bring them with you to your evacuation destination. Many shelters will not accept pets.
Write down your plan and ensure that your loved ones are aware of it.
6. Check in With Your Neighbors
A devastating hurricane can bring together a community. However, there are also several things you can do together with your neighbors to prepare before a hurricane arrives.
You should check on your neighbors and help them gather storm supplies and create an evacuation plan if they have not already done so. In the event of an evacuation, work together for a safe exit from the area.
7. Know What is Covered by Your Insurance
Florida insurance coverage for damage from hurricanes is complicated. It is important that you know what your insurance policy does and does not cover.
Most homeowner's insurance does not cover flood damage from storm water. You should make sure you have purchased a separate flood insurance policy.
Make sure you do not forget about any boats or vehicles, as these too can be damaged in a storm.
Call your agent or insurance company today to ask for a check-up on your insurance to ensure you have the coverage you need to repair or replace your home in the event of a storm.
Your Dedicated Florida Insurance Lawyers
As your neighbors, the insurance lawyers at Gordon & Partners encourage everyone to start their hurricane preparations now to help protect their safety during a storm.
If you encounter problems with your insurance company in obtaining the compensation you need after a storm, we are here to help. We have decades of experience helping policyholders get the financial help they need from their insurance company after storms, accidents and many other catastrophic situations.
Call 1 (855) 722-2552 or complete a Free Case Evaluation form.