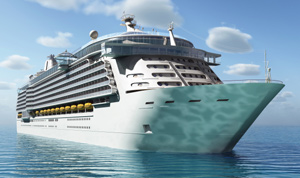 Ascanio Azzio, 4, is in critical condition at Broward Health Medical Center after he nearly drowned in a cruise ship pool on Saturday afternoon.
The boy had wandered away from his parents while aboard Royal Caribbeans Oasis of the Seas and was swept away in a wave pool for approximately six minutes before another guest noticed him. The ship had departed Port Everglades just one hour prior to the incident.
A search was already underway when a guest spotted the child underwater and motioned to another man in the pool. The man plucked the child from the water and handed him to bystanders who attempted to perform CPR.
On Saturday evening, the boat once again docked in Port Everglades and the child was transported to the hospital.
Royal Caribbean does not have lifeguards stationed at their pools. In fact, the majority of cruise ships do not have lifeguards staffed at their pools and signs are typically posted to warn passengers to swim at their own risk.
The cruise ship industry may want to reconsider their policies as near-drowning and fatal drowning incidents continue to happen. Since March 2013, there have been at least three drowning accidents involving children under the age of six each on a different cruise line.
Passengers place their lives in the hands of cruise operators expecting them to have their best interest in mind. There is no excuse for cruise lines not to have an ample number of aptly trained crew members on deck monitoring the pools at all times especially when children are on board.
If you or someone you love has been injured during a cruise due to another individuals negligence, the victim may be entitled to compensation for their suffering. The personal injury lawyer s at Gordon & Partners offer free legal consultations can help you determine what your legal options are.
Call our law firm today at 1 (855) 722-2552 or fill out our Free Case Evaluation form.