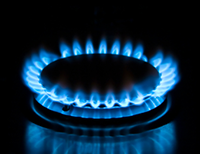 As it's name suggests, natural gas is a naturally occurring gas that is usually found in cavernous formations deep beneath the surface of the earth.
Colorless and odorless by nature, it can be a "silent killer" in many homes and factories due to the fact that occupants and workers cannot smell it accumulating in a room or workspace. Should there be even a small spark or ignition source, the resulting explosion can have catastrophic consequences to anything that is close to the detonation area.
To help in the quest for early detection, natural gas bottling facilities add an "odorant" to the gas mixture, so that it has a distinctive smell that most people can detect quite quickly in the event of a gas leak. Under DOT regulations, it is mandated that this gas odorant is readily detectable at one-fifth of the lower explosive level.
With the odorant added, in most instances, the source of the leak can be quickly located by a professional gas technician, and fixed promptly – thus avoiding the potential of serious personal injury or property damage.
U.S Explosion Statistics
Recent studies performed and accumulated by the National Fire Protection Agency have indicated that U.S fire departments responded to approximately 3,200 gas-related dwelling-related structural fires per year, between 2003 to 2007.
Out of these fires, it was determined that natural gas was the type of material that ignited in over 2,000 of these cases.
Some common areas that were involved in these gas-induced fires were:
stove tops
outdoor cooking areas
water mains heaters
While some of the contributing causes may have been:
leaking supply lines
broken supply lines
perished hoses
In most cases, the leading source of heat that ignited the resulting fumes were usually the spark, flame or ember from the operating equipment.
I've Experienced An Explosion What Can I Do?
If you or a loved one has been fortunate enough to survive the explosion, you need to seek immediate medical care. Your physical well-being is THE most important element in this instance. The chances of receiving second and third-degree burns and the resulting risks of infection need to be addressed IMMEDIATELY.
In the event of your property being damaged as a result of a natural gas explosion, it is a wise idea to enlist the services of a skilled injury attorney to help you deal with the ensuing insurance issues and potential problems that you may encounter.
By hiring an attorney you will essentially gain an immediate insight into the mindset of the insurance companies, and begin to understand that they do not care about your best interests. They are trained to specifically reduce any compensation claim (if you are eligible) to the LOWEST possible amount.
At Gordon & Partners, our team of lawyers has over 150 years of combined legal experience and can bring that knowledge to your lawsuit. Having obtained favorable verdicts and settlements for thousands of clients, we can help guide you past all of the pitfalls that you may encounter during the insurance claim process, and will fight for your rights.
How Can I Contact Gordon & Partners?
With offices in Martin, Palm Beach and Broward counties, we service most of South Florida and are proud of our history of representing the people, not the powerful. We work on a contingency basis, so that we don't bill you for our fees and services unless we obtain a settlement for you.
To find out more, contact us on 1 (855) 722-2552 or simply fill out the "Free Case Evaluation" form on this page.
We're ready to help you NOW – contact us today!