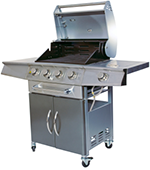 In a 2010 study released by the Federal Emergency Management Agency (FEMA), it was stated that grill fires account for approximately $37 million in property losses and an average of 10 death and 100 injuries per year.
Admittedly, there was a season-bias to this study, which noted that over 55% of these residential grill fires occurred over the months of May, June, July and August – with almost one-quarter having started on screened-in porches, terraces, patios or courtyards.
A major contributing factor to these fires was the use – and misuse – of gas based fuels, with propane being the main power source of over 65% of all grill-related fires on residential properties.
Contributing Factors To Propane Explosions And Prevention Tips
At a commercial level, there can be many elements that factor into propane-based fires and propane explosions. Most of these are centered around the transportation of this gas, which is usually moved in large quantities.
Some of these factors are:
incorrect securing of cylinders
faulty cylinders
faulty tankers
malfunctioning valves and pressure devices
auto collisions
railroad accidents
However, on the residential side, there are some common factors that often contribute to these explosions. Most of these can be monitored easily and often prevented with just some basic observation skills and precautions.
Some of these factors include (but are not limited to):
perished hoses
blocked cook top burners
faulty flow valves
incorrect / broken gauges
malfunctioning safety valves
faulty / rusted cylinders
Admittedly, most homeowners just want to turn on their grill and cook, however, as most outdoor grills spend their lives exposed to the elements, by taking just a few minutes inspecting the basic hardware and hoses before you starting cooking, can help prevent a serious personal injury from occurring.
The potential of third-degree burns and related property damages due a propane tank explosion are significantly increased if a part of the gas delivery system is malfunctioning or broken.
Can I Lodge A Claim For Damages With My Insurer?
While many insurance companies will reject a personal injury or property damages claim that has been caused by a propane or natural gas explosion, by employing the services of an experienced lawyer, they may be able to help obtain compensation for your damages and injuries.
A property damages attorney will be able to assess the situation, and then based on their findings, will be able to advise you on the best course of action to take. Here at the Gordon & Partners Law Firm, we have a team of experienced attorneys that have detailed experience in dealing with insurance companies, and can help guide you safely past the pitfalls that are often encountered in a damages lawsuit.
As an added benefit, we work on a contingency basis – what this means is that essentially, we do not charge you for our fees and services unless we obtain a settlement for you.
How Can I Contact A Propane Explosion Lawyer?
With offices in Palm Beach, Broward and Martin counties, we service most of South Florida and have over 150 years of combined legal experience that we can bring to help your lawsuit.
We have gotten favorable settlements and verdicts for our thousands of our customers, and we have a reputation of fighting for the people, not the powerful. With our team on your side, we will fight for your rights.
To find out more, simply call us on 1 (855) 722-2552 and one of our attorneys will help to determine if you have a case.
To get started today, you can also fill out the "Free Case Evaluation" form at the top of this page – it's FREE!