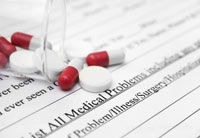 A recent study from the Centers for Disease Control & Prevention (CDC) has revealed that popular antidepressants Paxil and Prozac have been linked to higher rates of birth defects than other antidepressants.
If you or someone you love has been a victim of a dangerous drug, the experienced personal injury attorneys at Gordon & Partners can help you determine your legal options. You may be entitled to file a claim for your pain and suffering.
Call 1 (855) 722-2552 or fill out an online contact form.
The CDC studied previously conflicting data on approximately 28,000 births. Specifically, soon-to-be mothers were asked what medications they took during the first three months of pregnancy, and the eighth month. Researchers then analyzed the differences between women who took these medications and whose children were born with birth defects and those who did not take these antidepressants.
The study found no link between birth defects and Zoloft, Celexa and Lexapro.
The CDC notes that this does not prove Paxil or Prozac cause birth defects, but it does provide strong support to other studies with a similar conclusion.
According the study, Paxil and Prozac were both linked to a birth defect that obstructs blood flow. Paxil was also linked to holes in the heart and anencephaly. Skull deformities and abdominal wall defects were also linked to these antidepressants.
In some cases, the risk of certain conditions doubled or tripled among women taking Paxil or Prozac.
These findings are important as they reveal there may be some medications that could be safe for pregnant women to use if they're suffering from depression.
With more than 150 years of combined legal experience, the attorneys at Gordon & Partners have seen the devastating impacts of dangerous drugs. We believe that drug companies should be held accountable for their failure to warn users about the risks in using their medications, especially when those most at-risk are babies.
If your child was born with a birth defect and you believe it may have been caused as a result of an antidepressant, you may be entitled to compensation.
To determine what your legal options may be, contact us for a free consultation.
Call 1 (855) 722-2552 or fill out an online contact form.