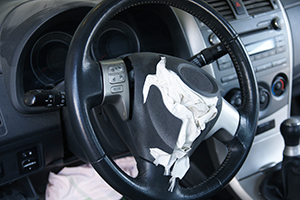 The National Highway Traffic Safety Administration (NHTSA) will allow auto giant General Motors (GM) to delay its recall of suspected defective Takata airbags. GM will now have the opportunity to prove that the Takata airbags in its vehicles are safe before replacing the defective products .
GM has until Aug. 31, 2017 to complete long-term tests and prove to the NHTSA that the Takata airbag inflators in its vehicles will not cause harm. If the recall is cancelled next August, GM stands to save $870 million in recall costs for the 6.8 million vehicles that would be involved.
Such a delay is unusual from the NHTSA. GM has hired an independent company to perform long-term testing of the Takata airbag inflators installed in older model GM trucks and SUVs, including the top-selling Chevrolet Silverado.
Earlier this year, the company recalled 2.5 million vehicles so that front passenger Takata inflators could be replaced. The recall was a part of a larger worldwide recall of approximately 23.1 million vehicles and 65 million airbag inflators that can explode violently during a crash and have led to 11 deaths across the country.
GM has claimed that its inflators are not the same as those involved in the massive Takata airbag recall and that its unique inflators are safer than those that have come under fire in the recent years.
Last month, automaker Toyota issued a recall for an additional 5.8 million vehicles across the globe due to potentially defective Takata airbags.
If you were injured by a defective Takata airbag, you may be entitled to compensation for your medical bills, lost wages, and pain and suffering. The class action attorneys at Gordon & Partners will fight for justice and work to maximize your compensation.
Call 1 (855) 722-2552or complete our Free Case Evaluation form now.