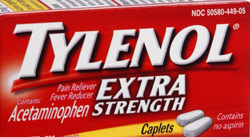 A recent trial in New Jersey has surfaced records that suggest while doctors recommend Tylenol, something often marketed to consumers, they also told patients to take lower dosages of the medication than the daily maximum permitted by the federal government.
McNeil Consumer Healthcare and Johnson & Johnson have spent years promoting Tylenol as the product most often recommended by doctors. The release of these new documents suggest that consumers may have been put at increased risk of liver damage and even death.
Doctors recommended less than the maximum dosage suggested because they worried that the maximum dosage was too close to the level that could lead to health issues.
The documents show that for decades, McNeil knew that the doses could lead to injury and illness. As far back as the 1970s, documents from McNeil suggest that company officials were told that most patient issues could be resolved with regular strength Tylenol. However, extra strength Tylenol continued to be marketed toward consumers as better than regular strength and eventually became the best-selling version of Tylenol.
In 1995, a medical survey with doctors revealed that physicians were more likely to prescribe regular strength Tylenol than extra strength. Many believed the drugs risks outweighed the benefits.
In 2011, the Food & Drug Administration required over-the-counter pain reliever manufacturers to add warnings about certain side effects, such as liver damage. By 2011, after a recommendation by an FDA panel, McNeil lowered the maximum recommended daily dose of Tylenol.
More than 200 cases have been filed against McNeil by consumers who allege they suffered illness or injury after taking Tylenol. It is estimated that more 50,000 Americans visit the emergency room for liver injuries after taking acetaminophen each year.
If you have suffered a liver injury after taking Tylenol, a personal injury lawyer in West Palm Beach can help determine if you are entitled to file a claim for medical expenses, loss of wages and more. TheTylenol lawsuit lawyersat Gordon & Partners offer free legal evaluations and can help you determine your legal options.
Call1 (855) 722-2552or fill out aFree Case Evaluation