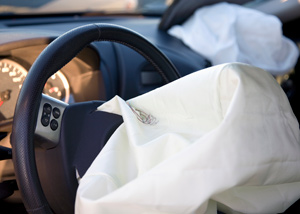 The Japanese Ministry of Transportation has decided to open up an investigation into the cause of the malfunction that is leading to the rupture of Takata airbags.
At a scrapyard in Japan, tests have begun determining what is at the root of the airbag malfunction. Specifically, Japans investigation has focused on the explosion of an airbag in a car model that is not included in current recalls.
In the latest incidence, an airbag deployed with such force that it shattered the windshield and sprayed metal shards on the floor of a Toyota subcompact WiLL Cypha. Since 2012, seven airbags have ruptured in scrapyards where 350,000 of the airbags made by Takata were evaluated and recycled each year.
Workers at the scrapyard in Japan have said that the airbag explosions sound like gunshots. In one incident the airbag rupture was so intense that metal shrapnel penetrated a vehicles windshield and punched a hole in the ceiling of a hall where the airbag detonation took place.
Honda is prepared to expand its recalls across the U.S. while Toyota and six other automakers are teaming up to hire an independent engineering company to investigate the cause of the problem with the airbags used in their vehicles.
Additionally, Takata Corp. has denied the National Highway Traffic Safety Administrations request to expand the airbag recall. Currently, the recall only covers areas of high humidity, which means other drivers are still being put at risk of being injured by a Takata airbag.
If you or someone you love has been injured by a defective Takata airbag during an auto accident, the victim may be entitled to file a personal injury claim . For more information on how a personal injury attorney from Gordon & Partners can you help you, contact us today.
Call 1 (855) 722-2552 or fill out our Free Case Evaluation form.